Boylston Street - Main Wall
Kal Anderson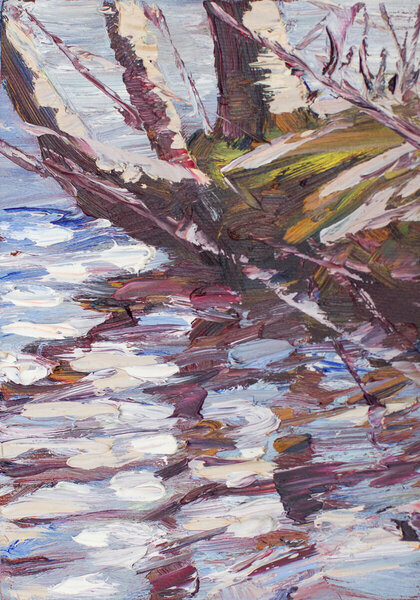 About Kal Anderson
Kal is an internationally collected artist based in the Jamaica Plain neighborhood of Boston. His work is a personal act of healing and mindfulness by observing and reflecting the world around him in paint. With nature-inspired subjects ranging from landscapes to figure work, his paintings invite the viewer to share in the reintegration of self with the world around us.
Here in Boston, he paints voraciously, organizes spaces for queer artists and creators, and teaches private art lessons. You can find out more about what he is working on at instagram.com/kalart, at
kalanderson.com
, or by emailing
kalrea.anderson@gmail.com.
About the Pond Collection Showing at J.P. Licks, Boylston Street
The Pond Collection is a deeply personal meditation on finding one's own balance amongst the ecosystem and befriending the trees.
This collection of oil paintings depicts scenery adn tender moments from the artist's walks and meditations at the emerald Necklace Conservancy in Boston. The Emerald Necklace is a series of siz parks spanning seven miles and spanning 1,100 acres. The parks were designed by landscape architect Frederick Law Olmsted. This collection includes scenes from two of the six parks: Olmsted Park and Jamaica Pond.