Careers
Start Your Career With J.P. Licks
We are always on the look-out for motivated and enthusiastic team members!
Scoopers/Baristas
Ice cream is happiness and there is no job better than serving up scoops of smiles! We will train you to make a perfect latte for all our coffee loving customers. Pay starts at $15.00/hour plus tips. Tips vary and generally add an extra $3.50-$10/hour to your pay each week. (You must be at least 16 years of age to work at J.P. Licks)
VIEW SCOOPER/BARISTA POSITIONS AND APPLY ONLINE
Supervisors
The shift supervisor is responsible for assisting the Store Manager in executing operations of the store. If you envision yourself as a team leader, this is a great opportunuty to hone your skills and create opportunity for advancement to management positions. Pay starts at $16.00/hour plus tips. Tips vary and generally add an extra $3.50-$10/hour to your pay each week. (You must be at least 16 years of age to work at J.P. Licks)
View Supervisor Positions and Apply Online
Production Team
It's exciting to work behind the scenes at our Jamaica Plain Headquarters making all the magic happen! Join our production team as an ice cream maker, caker, baker, or driver! J.P. Licks will train anyone who has a healthy addiction for all things ice cream, enjoys working in a fast-paced team oriented environment, and whose life goal is working hard to make people happy!
View All Production Positions and Apply Online
If you would like to apply in person you can stop into any store and fill out an application or
print out an application to fill out prior to arriving.
Management Positions
We are always on the look-out for experienced Managers and Assistant Managers to join our Leadership Team. Managers are responsible for providing strong, positive leadership to their Teams, ensuring our Guests receive fast and friendly service, maintaining operational excellence. We would love to hear from you and how your experiences will make a difference as a manager at J.P. Licks.
J.P. Licks Provides A Creative Environment
Quirky, fun, artsy, unique, comfortable, friendly, happy... these are words often used to described the vibe we like to create in all our stores and headquarters. We take the art of ice cream making very seriously, but we need to have fun in order to ensure every gallon of ice cream is filled with smiles that get released into every scoop! No boring desk job here! Work with a great crew, jive to good music, drink good coffee, and brighten people's days! We have a very diverse environment and all are welcome here.

We promote from within and there is a lot of room for growth. Many team members at the management level started as a scooper! Your pay will grow as your experience and responsibilities do and you will gain the opportunity to move up in the company as we continue to grow.
Competitive Wages & Benefits
We offer competitive wages for all positions. Both Full-time and Part-time employees enjoy discounts on J.P.Licks products, flexible schedules and sick time.
Full-time positions include Medical benefits.
Manager positions are offered Dental, Vision, 401K, and Vacation Pay. Along with a quarterly bonus plan.
Recruitment Rewards Program
We are hiring General Managers, Assistant Managers, and Supervisors
Do you know someone who has an enthusiasm for ice cream and is looking to have a rewarding career in the food industry? Send them our way and if they are hired we will reward you for helping us find qualified managers.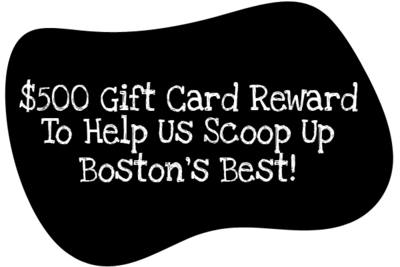 Recruitment Program Details:
Step 1, tell your candidate to send resume to

[email protected]

Step 2 Click Here to fill out the online form so we can easily track and contact you for follow-up, this must be filled out in order to receive rewards for a successful hire of your recruit.
When the recruit is hired, completes the training, and hits their 4 month anniversary you will be given 500 Rewards Dollars to spend on any purchases at J.P. Licks
Thank you, our trusted customers for helping us build a strong team so we can continue to provide the best service to our communities!