Andover
Linda Lea Bertrand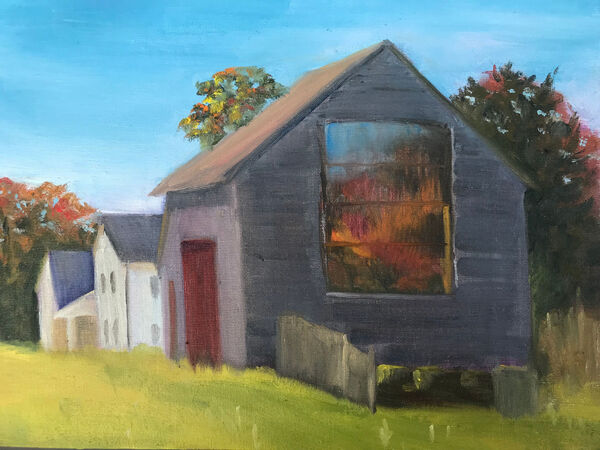 Artist Statement, Linda Bea Bertrand
I have always had a passion for art, first as an observer, then as a creator. I found myself drawing whenever a pencil was within reach. The contemplative aspect I initially felt observing great art is present in the practice of creating art. An error in scheduling led me to a painting course a few years ago. I have been painting ever since. As a nurse, painting reduced the stress from my work with the acutely ill. Recognizing the importance of art in my life I sought out realist art teachers who inspired me to develop accurate drawing, light effects and color sense. I paint regularly with the plein air group mentored by David Curtis. We learn from and encourage each other. I enjoy creating realistic plein air paintings with an impressionistic color sense. I love being in the New England landscape, absorbing the local color, capturing the always changing effect of light with the hours, weather and season. My paintings evoke peace and tranquility. I invite my viewers to step into my painting, to recall a place where they have experienced the same feelings I had while painting it. Viewers can gain a moment of tranquility in their daily lives. Most of my paintings are North Shore landscapes and seascapes. I have been visiting France annually to absorb the ambiance and paint provincial villages and landscapes with artists from around the world.
I recently retired from a Cardiology practice. I can now allow my art to flourish and promote my paintings. New Opportunities are opening to me. I am now participating in national competitions and curating the monthly exhibits at the Gallery at AdviniaCare, Salem Ma. I am looking forward to giving back through the arts.
Please visit my website at www.Lindaleapainting.com
To read more please visit, "Art in Every Day Places"