Donations Criteria
Requesting an In-Kind or Silent Auction Donation
J.P. Licks is proud to have given over $150,000 of in kind donations in the past year.
We love to support supports local charities, schools, and non-profit organizations in our own communities through in-kind donations (ice cream, brewed coffee, coffee beans) and gift certificates for silent auctions.
Please note that requests are processed on a first come first serve basis but in order to be considered, your event must be no sooner than one month from submission date. We do our best to process them within 12 business days but it is strongly suggested that you give the longest amount of time possible for your request. Due to the extremely high volume of requests, unfortunately, we cannot grant them all.
You will be required to recognize our donation with signage at your event.
Community Member Spotlight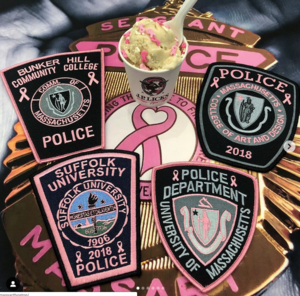 The MassArt Police spend a month raising money for Breast Cancer and create awareness with their pink badge campaign. To raise even more money they have an ice cream social at the end of the month. They wear the patches on their uniforms for the entire month of October, Breast "Cancer Awareness Month" to create awareness and stimulate conversation with the community and encourage awareness and importance of early detection.