Community Support/Applying for a Donation
Requesting an In-Kind or Silent Auction Donation
To Our Community,
Being able to support your groups and events over the years has been a real source of pride for us, and we treasure the relationships we've formed with all of you.
It is important to us to give back to the communities local to our stores. Every year since 1981 J.P. Licks has given away thousands of dollars in donations of ice cream, gift cards, and other goodies to benefit local schools and community groups. We began 2020 expecting to do the same, but by March the pandemic hit and we were forced to lay off 75% of our staff. We have been able to bring most of them back, but we are nowhere close to being whole yet. We have taken a huge financial hit and are doing everything we can to keep our doors open so we can continue to serve ice cream and treats to the greater Boston community.
Sadly, this means that we have had to halt accepting donation requests for the time being. We hope to be back to supporting you as soon as we can!
Stay Safe,
Everyone at J.P. Licks
Community Member Spotlight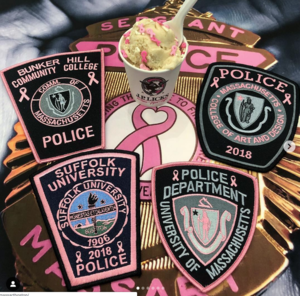 The MassArt Police spend a month raising money for Breast Cancer and create awareness with their pink badge campaign. To raise even more money they have an ice cream social at the end of the month. They wear the patches on their uniforms for the entire month of October, Breast "Cancer Awareness Month" to create awareness and stimulate conversation with the community and encourage awareness and importance of early detection.
Community Member Highlight
Rosie's Place 2019 Sock Drive
During February 2020, all 17 J.P. Licks locations collected socks for the Boston Women's Homeless Shelter,
Rosie's Place
.
Rosie's Place was founded in 1974 as the first women's shelter in the United States. Our mission is to provide a safe and nurturing environment that helps poor and homeless women maintain their dignity, seek opportunity and find security in their lives.
Today, Rosie's Place not only provides meals and shelter but also creates answers for 12,000 women a year through wide-ranging support, housing and education services. Rosie's Place relies solely on the generous support of individuals, foundations and corporations and does not accept any city, state or federal funding. Thanks to these donations, 83 cents of every dollar raised goes directly to services for poor and homeless women.
J.P. Licks teamed with Rosie's Place in February, 2020 to collect socks from our customers as socks need to be donated in new condition and shelters are perpetually short on this essential clothing item. In exchange for donating new socks, customers received coupons to use on subsequent visits.