Our Neighborhoods
Scooping it Forward
Tuesday, August 4, 2020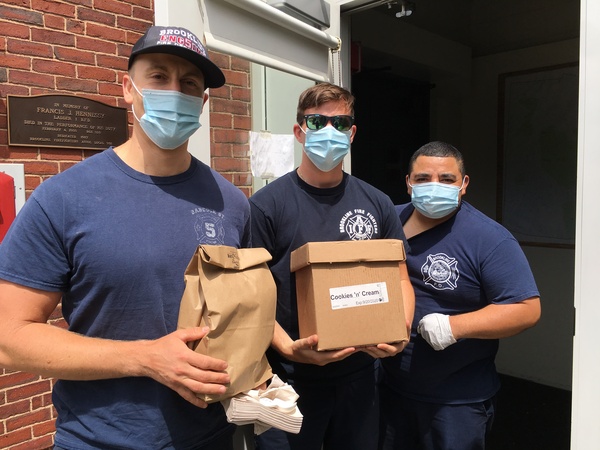 Last month we started making deliveries to firehouses in our different neighborhoods. So far, we've visited 15 around town and we have noticed a bit of a pattern. Each time we ring the bell with our big freezer bag packed with a tub of ice cream, spoons, cups, napkins, and 3 different types of toppings, the door is answered by a firefighter with a slightly guarded, concerned look on their face. "Can we help you?" And then we start to explain who we are and why we're there. "Hi, our customers supported the campaign to bring you ice cream as a thank you for all you've done and continue to do during this pandemic so we have some ice cream for you and everyone in the house."
To a person, their faces fill with huge grins (that we can sometimes see because we stay more than 6 feet from the door) or their eyes crinkle up with excitment, or they say, "really? for us?" and then they call over one of their crew mates. "Hey, check it out, ice cream!" They universally seem to turn into little kids for a moment, full of delight. It brings us so much joy to see how happy it makes them, to see that ice cream truly does make people happy, no matter how old they are. And we are so grateful to everyone who has made these interactions possible. Who have made it possible to bring this joy to these first responders in our neighborhoods.
We have a few more deliveries to do and we look forward to each and every smile.
Thank you.