Our Neighborhoods
Meet Mr. Buttons From Lifting Spirits
Friday, April 24, 2020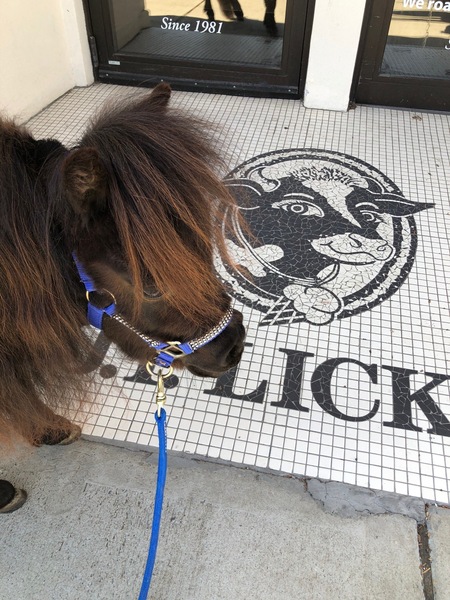 We love when humans bring their dogs by the store to visit us. While only service dogs can come inside, we can see your puppers outside, knowing a treat awaits them when their people come back out, or when you share photos and video on social media of your doggos enjoying their cow paw ice cream.
Last week, we had a horse of a different color visit us in our Andover store. A literal horse! Well, a miniature pony, to be exact. Lifting Spirits Miniature Therapy Horses is one of our neighbors north of the city. They currently work with 75 organizations from nursing homes to children's hospitals, libraries to veteran centers, to bring comfort, smiles, and more to people of all ages and abilities. They visit schools and run programs like "Just Say Whoa" aimed at teaching young people to stand up to bullying - to be an "upstander" instead of a "bystander" and "Read to a Mini" which helps children and adults alike learn to read.
Right now, like so many of us, they can not visit their friends like they normally do. But that doesn't mean they are willing to stop bringing smiles to people's masked faces! Plus, they still need exercise. So their trainers have started taking them on daily walks around town to visit small businesses still open for business to try and raise the spirits of essential workers. Now, just like dogs, these ponies can't come inside and they are observing social distancing rules too. But just seeing them out and about sure brought a smile to our face!
This is Mr. Buttons. He's 26" tall and thrives on attention and, we are told, loves a good sugar cone. (His sister, Peaches, loves green apples but won't say no to a cone either.) Lifting Spirit has 4 trained minis and 2 more in training. Three of these beauties are rescues themselves and have a ton of love to share. We hope to see Mr. Buttons and his four legged family again really soon!
You can find out more about Lifting Spirits here.
They are a 501c3 completely dependent on grants and donations for the care, training, and outings for therapy sessions.
See you soon, Mr. Buttons!