Date Night With Turtle Swamp Brewing
Wednesday, September 2, 2020
Bring date night home this weekend!
Blonde on the Run Catering, located in Jamaica Plain, has created a delicious 3 course dinner for you and a friend to enjoy while you sip Turtle Swamp Beer at home! You get a quart of our vanilla ice cream to create your own lixwiches! Simply pre-order between now and 9/3 and pick up your dinner, dessert, and a mixed 4 pack (or 2) at TSB on 9/5.

Your dinner will be carefully packaged by Blonde on the Run and will come READY-TO-HEAT. Your dinner will come with simple, at-home heating instructions.

Pick up your dinner, dessert and beer after 2pm on 7/25- take home, heat and enjoy!

Choose between (2) 3 course dinner options, then choose if you need 1 or 2 Turtle Swamp mixed 4pks to pair with your dinner! Pre-order now through Thursday, 9/3 @ 8pm.
Mayor Janey Visits J.P. Licks
Monday, April 26, 2021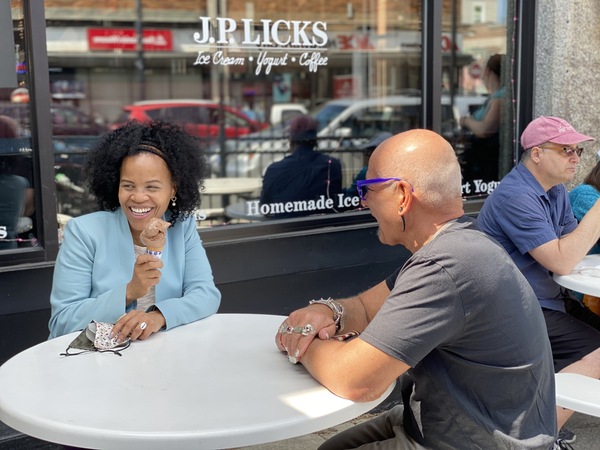 On Saturday, 4/24 Mayor Kim Janey did a walking tour of JP in support of the small businesses who have been working hard to keep our doors open through the pandemic. It included stops at our neighbors City Feed, Nckls & Dimes, and of course, a sit down with founder & owner Vincent Petryk over some Brownie Brownie Batter Ice Cream! We had a great time meeting Mayor Janey, her staff, and tons of neighbors! Check out some
photos
from the day!