Our Neighborhoods
Liz Hauck Visits J.P. Licks
Friday, September 24, 2021
On September 21, 2021, local author Liz Hauck joined us in our JP Headquarters for a book reading and discussion of her new memoir, "Home Made: A Story of Grief, Groceries, Showing Up - and What We Make When We Make Dinner." Liz grew up in Roslindale, frequenting J.P. Licks in JP with friends after school and after her various volunteer experiences. In her new book, she shares stories about food and community with teenaged boy in state care living in a group home in JP. She volunteered there for three years following the death of her dad, Charlie Hauck, who co-directed the human services agency that ran a constellation of of group homes in Boston for decades. We were beyond thrilled to have hosted Liz plus, our neighbor Papercuts, JP's independent bookstore, made Liz's book available for people to purchase. More than 40 people came in to listen to the reading and chat with Liz on the last evening of summer, meeting their neighbors and connecting with each other. It's everything we want our stores to be and connecting with the team at Papercuts was incredibly special. We're so looking forward to hosting another local author soon.
What's Inside That Store?
Tuesday, January 14, 2020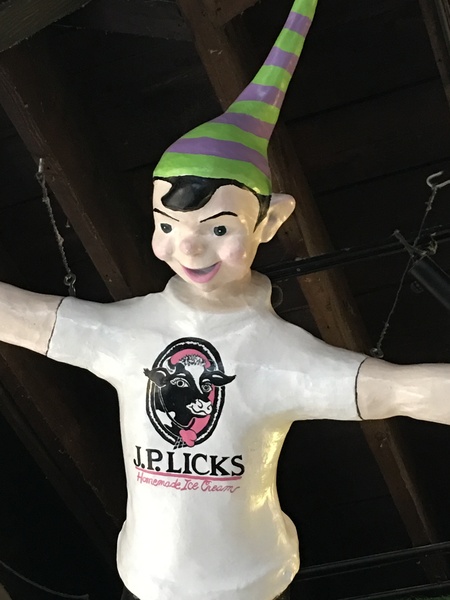 Have you ever looked up in our Jamaica Plain store and noticed a flying elf or taken a photo with our ceramic cow? Or sat in the teacup that sits in the middle of our Mission Hill location? Where in the world does Vince FIND these things when he's creating the interiors of the stores? Once upon a time, there was an amusement park in Whitman, MA called King's Castle Land. Founded in 1946, it had a nursery rhyme theme with a drawbridge entrance, an oversized shoe, and 14 rides. But in 1994, the owners decided to retire and shut down the park. The rides were auctioned off - including the carousel which went to New Mexico and the Ferris wheel moving to Toronto. But Vince purchased the cow, the tea cup, and the flying elf during the park's auction.
Vince added the J.P. Licks t-shirt to the elf and raised him up, gave the cow a home in our JP store and named her Clementine (of course!), and originally, the tea cup lived in our first Newbury Street store. When we closed that store, the tea cup moved to our Mission Hill store and has been a customer favorite for decades. Clementine has inspired the adoption of two other cows -one outside our Dedham store and one outside our Lynnfield store. Come on by and see it all for yourself!
Beer Floats at TurtleSwamp Brewery
Monday, July 12, 2021
Sunday is National Ice Cream Day and we're partnering with fellow JP small business Turtle Swamp Brewery to bring you a very special treat - Beer Floats!
Come by Turtle Swamp Brewery's Jamaica Plain tap room (3377 Washington St.) from 12-4 this Sunday to enjoy their "02130 Copper Kolsch" or their "Orange Line IPA" with our vanilla ice cream. Or chocolate ice cream. Or Applewood Smoked Vanilla. Create your own combinations or let us serve you a flight of choices. Experience National Ice Cream Day like you never have before!
Ice cream sans beer will also be available for this family friendly event.
Mayor Janey Visits J.P. Licks
Monday, April 26, 2021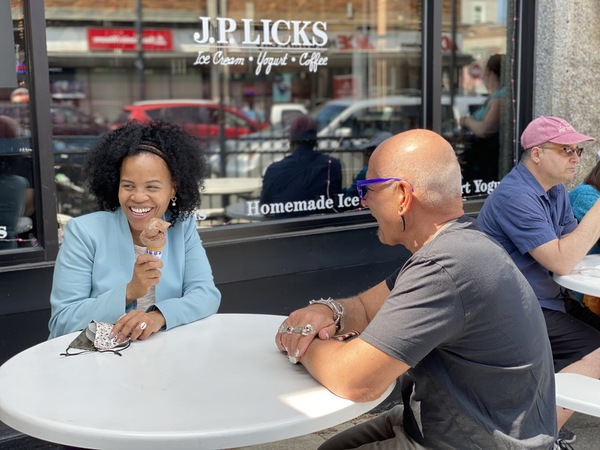 On Saturday, 4/24 Mayor Kim Janey did a walking tour of JP in support of the small businesses who have been working hard to keep our doors open through the pandemic. It included stops at our neighbors City Feed, Nckls & Dimes, and of course, a sit down with founder & owner Vincent Petryk over some Brownie Brownie Batter Ice Cream! We had a great time meeting Mayor Janey, her staff, and tons of neighbors! Check out some
photos
from the day!
Date Night With Turtle Swamp Brewing
Wednesday, September 2, 2020
Bring date night home this weekend!
Blonde on the Run Catering, located in Jamaica Plain, has created a delicious 3 course dinner for you and a friend to enjoy while you sip Turtle Swamp Beer at home! You get a quart of our vanilla ice cream to create your own lixwiches! Simply pre-order between now and 9/3 and pick up your dinner, dessert, and a mixed 4 pack (or 2) at TSB on 9/5.

Your dinner will be carefully packaged by Blonde on the Run and will come READY-TO-HEAT. Your dinner will come with simple, at-home heating instructions.

Pick up your dinner, dessert and beer after 2pm on 7/25- take home, heat and enjoy!

Choose between (2) 3 course dinner options, then choose if you need 1 or 2 Turtle Swamp mixed 4pks to pair with your dinner! Pre-order now through Thursday, 9/3 @ 8pm.
Explore Jamaica Plain with Alaina Pinto
Thursday, June 24, 2021
We love our Jamaica Plain hometown, a beautiful neighborhood in this great city of Boston. Take a new look at JP with Alaina Pinto, who stopped by J.P. Licks to speak with Vince about all things Jamaica Plain and ice cream. Take a look - she'll introduce you to farms, restaurants, and more!