Our Neighborhoods
What's Inside That Store?
Tuesday, January 14, 2020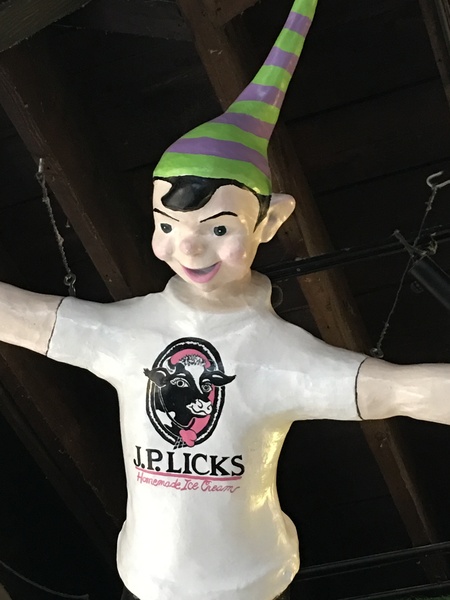 Have you ever looked up in our Jamaica Plain store and noticed a flying elf or taken a photo with our ceramic cow? Or sat in the teacup that sits in the middle of our Mission Hill location? Where in the world does Vince FIND these things when he's creating the interiors of the stores? Once upon a time, there was an amusement park in Whitman, MA called King's Castle Land. Founded in 1946, it had a nursery rhyme theme with a drawbridge entrance, an oversized shoe, and 14 rides. But in 1994, the owners decided to retire and shut down the park. The rides were auctioned off - including the carousel which went to New Mexico and the Ferris wheel moving to Toronto. But Vince purchased the cow, the tea cup, and the flying elf during the park's auction.
Vince added the J.P. Licks t-shirt to the elf and raised him up, gave the cow a home in our JP store and named her Clementine (of course!), and originally, the tea cup lived in our first Newbury Street store. When we closed that store, the tea cup moved to our Mission Hill store and has been a customer favorite for decades. Clementine has inspired the adoption of two other cows -one outside our Dedham store and one outside our Lynnfield store. Come on by and see it all for yourself!