Local Author Liz Hauck Comes to JP
Tuesday, September 21, 2021
Join author Liz Hauck on September 21 at 7 pm in our JP Headquarters for a book reading of her new memoir, "Home Made: A Story of Grief, Groceries, Showing Up - and What We Make When We Make Dinner." Liz grew up in Roslindale, frequenting J.P. Licks on in JP with friends after school & volunteer opportunities. In her new book, she shares stories about food and community with teenaged boy in state care living in a group home in JP. She volunteered there for three years following the death of her dad, Charlie Hauck, who co-directed the human services agency that ran a constellation of of group homes in Boston for decades. We are beyond thrilled to host this local author and educator and hope you will join us for this special event. Come for the stories and stay for a sundae!
Seating limited, register here!
659 Centre Street, Jamaica Plain, 7 pm
Free!
All Stores Open Regular Hours on Labor Day
Friday, September 3, 2021
Looks like we will have a beautiful weekend for this long holiday weekend! Come enjoy the flavors of summer with us - all stores open regular hours Saturday, Sunday, and Monday.
Mask Mandate Reinstated in Boston & Somerville
Monday, August 23, 2021
As of Friday, 8/27/21, the mask mandate has been reinstated in the city of Boston. Please wear your mask over your mouth and nose when you come into our Boston stores - JP, West Roxbury, One Brigham Circle, Charles Street, Boylston Street, Dorchester, Southie, and Newbury Street stores.
The mask mandate was reinstated in the city of Somerville on 8/20/21. Please wear your mask over your mouth and nose when you come into our Assembly Row and Davis Square stores.
Cambridge will reinstate their mask mandate on Friday, September 2, 2021. Please wear your mask over your mouth and nose when coming into our Harvard Square store.
Thank you so much!
8/9 Is National Book Lovers Day
Monday, August 9, 2021
August 9th is National Book Lovers Day and we're celebrating with our Somerville neighbor, All She Wrote Books. Stop in today and purchase any children's, chapter, or young adult book, then bring proof of today's purchase to our Assembly Row store to receive $1.00 off your purchase!
*offer only good today, 8/9, on purchases made today only
*offer only good in our Assembly Row store
Beer Floats at TurtleSwamp Brewery
Monday, July 12, 2021
Sunday is National Ice Cream Day and we're partnering with fellow JP small business Turtle Swamp Brewery to bring you a very special treat - Beer Floats!
Come by Turtle Swamp Brewery's Jamaica Plain tap room (3377 Washington St.) from 12-4 this Sunday to enjoy their "02130 Copper Kolsch" or their "Orange Line IPA" with our vanilla ice cream. Or chocolate ice cream. Or Applewood Smoked Vanilla. Create your own combinations or let us serve you a flight of choices. Experience National Ice Cream Day like you never have before!
Ice cream sans beer will also be available for this family friendly event.
All Stores Open Normal Hours July 4th
Sunday, June 27, 2021
All of our stores will be open normal hours on July 4th this year so you and your friends and family can celebrate deliciously!
https://jplicks.com/locations/
Artist Reception at Boylston Street
Thursday, June 17, 2021
Join us at our Boylston Street store on Thursday, 6/24 from 7 pm - 9 pm for our first artist reception in over a year! Grab some ice cream and talk to artist Kal Anderson about the current installation of the Pond Collection! There are just over a dozen paintings up, all from the 2020 collection. Kal will have postcard packs of the installed paintings available for sale, as well as the paintings themselves. This is the first time this collection has been shown in person!
Get A Kick Out Of Ice Cream In Andover
Monday, June 7, 2021
Now through Wednesday, 6/9, come into our Andover store and you can add $2.00 to your check to support the Andover Soccer Association. Just mention ASA or wear some gear and you can support the (approx) 1,600 kids who take to the field every year - along with their 300+ volunteer adults that help make it happen. See you on the field! https://www.andoversoccer.org/
Celebrate 40 With Us June 1
Monday, May 31, 2021
Friends, we turn 40 this year (officialy in July!) and want to celebrate. So June 1st get 40% off your purchase. All day long. In all 17 of our stores. Only in stores. (Max discount is $40 per person.) Let's party.
Fruity Pebbles Cereal Milk is Back! (and in a frappe)
Tuesday, May 18, 2021
Fan favorite Fruity Pebbles Cereal Milk is back! And we've introduced a new way to enjoy it. Ask for a specialty frappe - Fruity Pebbles Cereal Milk Ice Cream blended with milk and enhanced with a raspberry puree drizzle and topped with whipped cream. Grab those straws!
Mayor Janey Visits J.P. Licks
Monday, April 26, 2021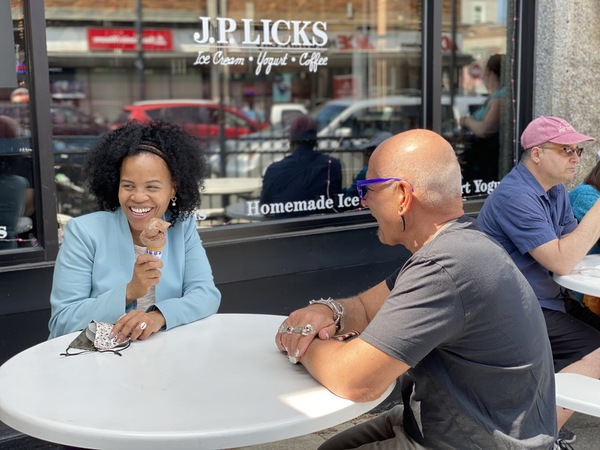 On Saturday, 4/24 Mayor Kim Janey did a walking tour of JP in support of the small businesses who have been working hard to keep our doors open through the pandemic. It included stops at our neighbors City Feed, Nckls & Dimes, and of course, a sit down with founder & owner Vincent Petryk over some Brownie Brownie Batter Ice Cream! We had a great time meeting Mayor Janey, her staff, and tons of neighbors! Check out some
photos
from the day!
J.P. Licks & the Boston Marathon
Monday, April 19, 2021
We won't see a sea of runners go past our stores this Marathon Monday but we're looking forward to the race this Fall. Until then, keep training, Boston and stop by to say HELLO anytime. Thanks to
WBZ
for bringing us all together this Monday.