Midnight Munchies and Strawberry Lime Red Bull Sorbet!
Monday, September 20, 2021
Two new flavors are hitting your spoons! You never have to decide between a sweet or salty snack again. Try our new flavor, Midnight Munchies! Peanut butter ice cream loaded with chocolate covered pretzels, Kit Kats®, potato chips, and tangy ranch, your search for the perfect late night snack is SOLVED!
Or, try the new Strawberry Lime Red Bull Sorbet, a dairy-free sorbet made with Red Bull®, pureed strawberries, and a hint of lime. The perfect way to get through a long day or to start out your evening. Try it in a Sorbet Freeze and it's just like drinking a frozen Red Bull!
Now Hiring Managers, Assistant Managers, and Supervisors!
Monday, September 13, 2021
J.P.Licks is currently looking to add to our amazing Team! We are looking General Managers (GMs), Assistant Managers (AMs), and Supervisors. Specifically Our Andover location wants to hire a GM and an AM and our Legacy Place location seeks a GM.
Other locations in the Boston area are looking for AM's and Supervisors. If you have leadership experience and want to be part of an amazing team please send your resumé or contact info to jobs@jplicks.com
New Smoky Maple Bacon Cow Paws Released!
Wednesday, August 25, 2021
On National Dog Day (8/26) we released our first new Cow Paws flavor since 2006! Smoky Maple Bacon Sorbet is dog friendly dairy-free sorbet made with kosher vegetarian bacon bits and smoky maple flavor. Dog tested and definitely approved, come grab your best pal a cup today!
*a reminder that due to health code restrictions, only service animals are allowed inside our stores.
https://www.bostonglobe.com/2021/08/23/lifestyle/jp-licks-releases-new-frozen-treat-flavor-honor-national-dog-day/
Searching for Kosher Food? Look no further!
Wednesday, August 11, 2021
J.P. Licks has been kosher for over two decades now. When founder/owner Vincent Petryk opened the doors of his stores in Coolidge Corner and Newton Centre, he decided the best way to serve his neighbors was to become kosher-certified. Jewish Boston recognizes us as one of the top 6 kosher restaurants in the area - plus we always have vegan options available if you are kosher AND vegan! Check out some additional delicious non-dessert optons in this
Jewish Arts
collection of restaurants.
LixWich, the Ice Cream Sandwich Glow Up
Wednesday, July 28, 2021
Best of Boston @BostonMagazine
Tuesday, July 6, 2021
When Vincent Petryk founded J.P. Licks in a small storefront in Jamaica Plain in 1981, he knew he had something special but he had no idea what it would be 40 years later. Yet here we are! Thank you, Boston Magazine, for voting us "2021 Best Ice Cream"
Desert Pear Pink Drink
Thursday, July 1, 2021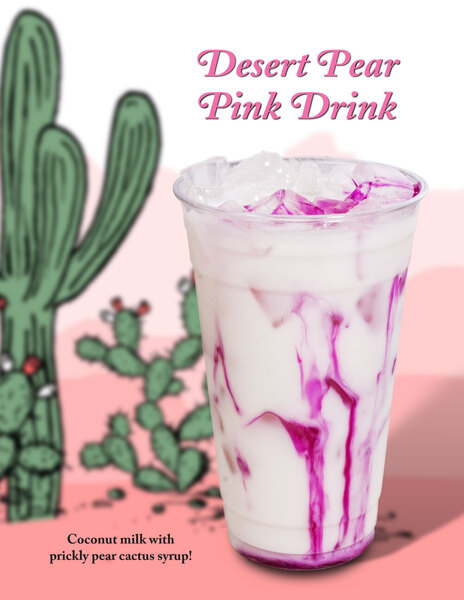 Introducing one of the most refreshing drinks you will ever have! A dairy free combination of coconut milk and desert pear syrup with a bold fruitiness and bright fuchsia hue. The only thing more fun than drinking our Desert Pear Pink Drink might be stirring everything together and watching the color change!
Limited Edition Johnny Cupcakes T-shirt & Flavor Available
Saturday, June 26, 2021
Back in 2020, we began a collaboration with our Newbury Street neighbors, Johnny Cupcakes. Obviously, things were put on hold for a while but our new flavor, Applewood Smoked Vanilla, and a limited edition t-shirt are now available in all J.P. Licks stores. Vincent and Johnny collaborated on creating both the tee and the flavor - sweet treats as unique as their businesses! You can also order your limited edition tee online.
Explore Jamaica Plain with Alaina Pinto
Thursday, June 24, 2021
We love our Jamaica Plain hometown, a beautiful neighborhood in this great city of Boston. Take a new look at JP with Alaina Pinto, who stopped by J.P. Licks to speak with Vince about all things Jamaica Plain and ice cream. Take a look - she'll introduce you to farms, restaurants, and more!
Yoga in the Park at Assembly Row
Tuesday, May 18, 2021
Headed to Assembly Row for
Yoga in the Park
this weekend? Every Saturday from 9 am - 10 am (weather permitting) now through September, yoga classes will be offered in the park. Stop by J.P. Licks afterward from 10 am - 11 am for 1/2 off any coffee beverage as you prep for the rest of your day!
*bring in your mat so we know you've been part of Yoga in the Park
*offer only good in our Assembly Row store
*offer only good 10 am - 11 am on Saturdays
Help Us Shape The Future
Tuesday, May 18, 2021
J.P. Licks has been bringing you new products and old favorites for 40 years. We'd like to know - is there anything new you'd like to see on the menu as we head toward our next anniversary? Please take a second to let us know in this
brief survey
(seriously, it could not get any briefer!). Thank you!
We're Hiring!
Tuesday, April 6, 2021
We're looking for ice cream makers and scoopers/baristas to join our team! Ice cream for all stores is made in our Jamaica Plain headquarters. Hours are flexible and pay is competitive and you'll be trained on the ice cream making. Apply to be an ice cream maker by sending your resume to productionjobs@jplicks.com
If you want to scoop smiles this summer, please reach out to the store in which you are interested via our website or go in and fill out an application in person!