New! Presidential Flavors
Monday, February 15, 2021
We've added two new flavors to the J.P. Licks Flavor Family: a Regular Cup of Joe (coffee ice cream that tastes just like a cup of coffee with cream and sugar; gluten free) and Kamala's Karamel (sea salted caramel ice cream with chocoalte covered caramel pieces throughout). Grab a spoon and come eat like the leader of the free world!
Our Second Annual Sock Drive Is On!
Thursday, February 11, 2021
Our second annual sock drive to benefit Rosie's Place is underway! Through the month of February, for every pair of new socks you bring into J.P. Licks, receive a $1.00 off coupon to use on your next visit. Socks are one of the least frequently donated items to shelters while being one of the most requested items. Our goal is to reach 600 pairs to bring to Rosie's Place at the end of the month. Let's help keep our neighbors warm this winter.
*socks must be new to be
*only one coupon can be used per visit
Introducing Black Raspberry Cookies 'n' Cream
Wednesday, February 3, 2021
New this month! Try our classic Black Raspberry ice cream loaded with crushed cookies. Two of your favorite flavors combined to make a perfect cup of ice cream.
MorningStar Sausage, Egg, and Cheese Sandwiches
Monday, January 11, 2021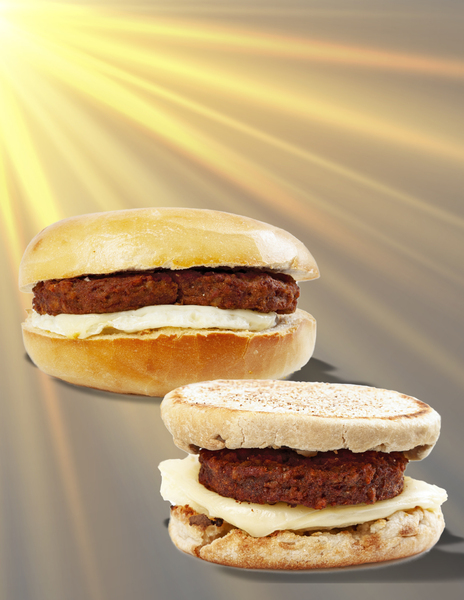 Introducing our MorningStar Sausage Egg and Cheese Sandwiches. We serve them on your choice of a toasted bagel, toasted English Muffin, or a delicious buttered croissant. They go great with a cappuccino or a cup of our cold brew coffee. These new sandwiches are currently available at 6 of our 17 stores.* All of our locations have a full espresso bar and fresh brewed coffee roasted in our JP headquarters. Come in anytime for a pick me up.
*Jamaica Plain, Assembly Row, Harvard Square, Legacy Place, One Brigham Circle, and West Roxbury
Bring Our Hot Chocolate Home
Friday, January 1, 2021
Our award winning Hot Chocolate is available to bring home. You can grab a cone - enough for two servings, or one of our two different sizes of bottles. All you need to do is add hot milk and then sit back and enjoy. It's also easy to order online at our
coffee website
to send anywhere in the Continental U.S.A.
Coffee Grounds For Composting Are Back
Sunday, October 4, 2020
We paused at the beginning of of the pandemic but we're back! Used coffee grounds will be available on Tuesdays and Thursdays in our Jamaica Plain store for you to pick up (while supplies last) to use in your gardens or compost piles. Set up on table near the door, come in and grab one and try a coffee while you're at it!

It's great for your garden:
Adding coffee grounds to your soil helps with drainage, water retention, and aeration and decreases how much you need to depend on chemical fertilizers (more info will be available on our website about how to use it), so why not - let's make our neighborhoods more beautiful!
Put it in yiour composting pile:
Coffee grounds are considered a green compost material (food scraps, grass clippings, coffee grounds) so mix it with brown compost material (newspaper, dry leaves, etc).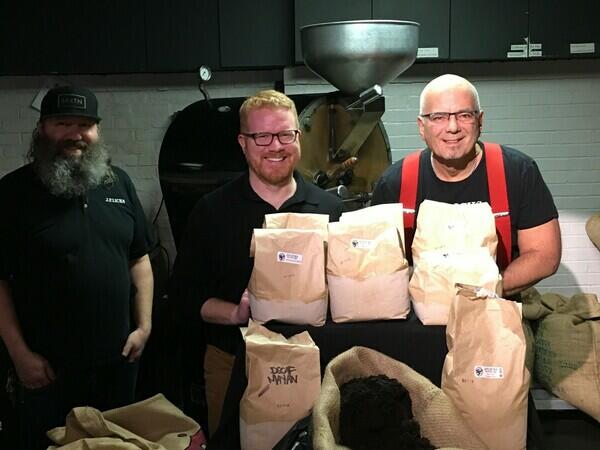 (L-R: Hank Rose J.P. Licks Coffee Roaster, Councilman Matt O'Malley, Vince Petryk-Owner J.P. Licks)
Cookies 'n' Cream Sundaes and Frappes
Wednesday, February 3, 2021
Dress up your favorite Cookies 'n' Cream flavor (we have peanut butter, coffee, mint, and original) as a frappe or sundae! Take home a sundae - your favorite Cookies 'n' Cream flavor with crumbled cookies, hot fudge, whipped cream and a whole Oreo®- or sip it through a straw with chocolate drizzle and whipped cream.
Announcing...Cookie³!
Tuesday, September 15, 2020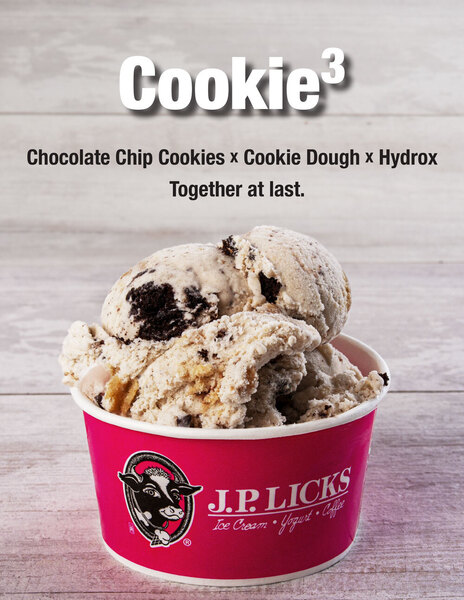 What do you get when you combine Vanilla Ice Cream, Chocolate Chip Cookies, Cookie Dough, and Hydrox Cookies?
Pure Perfection!
Please welcome the newest flavor to our J.P. Licks family...Cookie³!!!
J.P. Licks As A Literary Device!
Monday, August 31, 2020
Janae Marks wrote the book "From the Desk of Zoe Washington", set in Medford, Somerville, and Cambridge, MA. One of the places Zoe and her friends and family visit is the J.P. Licks in Davis Square and we just had to sit down and chat with her about how she came to set some of her story at J.P. Licks!
1. How did you decide where to set Zoe's story? Did you grow up or go to school near Davis Square?
I went to college at Tufts University, so I lived on campus down the road from Davis Square for several years. I loved walking to Davis Square to hang out, watch a movie, and grab J.P. Licks!
2. Where did your idea for Zoe's story come from?
What inspired me to write this story was a podcast! Back in 2014, I was obsessed with the first season of Serial, which told the story of a man who is in prison for murder, but many believe could be innocent of the crime. After the season ended, I kept thinking about wrongful convictions, and wondered how often they happen. Since I write for kids, I started to wonder what it's like to have a parent in prison, and what it would be like to find out that they might actually be innocent. Zoe Washington was born from there!
I decided to make Zoe an aspiring pastry chef because I love watching baking competition shows, like Kids' Baking Championship on the Food Network. I thought it'd be fun to have Zoe be as passionate about baking as the kids on those shows.
3. Can you tell us a little bit more about the Innocence Project, the organization that helps Zoe?
The Innocence Project is an organization that uses DNA testing to exonerate the wrongfully convicted. They also help reform the criminal justice system. You can learn more about them on their website: innocenceproject.org/.
4. Did you have to spend a lot of time researching for the book? Did you describe Davis Square and Harvard Square from memory or did you come back and take a lot of pictures?
Yes, I spent a lot of time researching wrongful convictions, systemic racism within the criminal justice system, The Innocence Project, and baking! I actually described Davis and Harvard Square from memory, with the help of Google images.
4. Did you have a best friend growing up that lived next door to you? And did you have a fight with them one summer too?
I never had a best friend live right next door to me. The conflict between Zoe and Trevor is fictional, but I did have an experience in the sixth grade that led to me losing friends. It's so common for friendships from elementary school to change once kids get to middle school, so I wanted to explore that theme.
5. What's your favorite song? Do you write about it in "From the Desk of Zoe Washington"?
Growing up, I loved Mariah Carey, which is why I included "One Sweet Day" (her duet with Boyz II Men) in the book. I listened to that album, Daydream, constantly when I was Zoe's age. Listening to it now still brings back memories of that time!
6. Do you also bake cupcakes? Or do you enjoy eating them more? What's your favorite flavor of cupcake?
When I wrote this book, I wasn't much of a baker, even though I love those baking competition shows. But I've been baking more lately! I'd still rather eat cupcakes than bake them, but it's pretty satisfying to make them yourself. My favorite flavor is similar to Trevor's - chocolate!
7. When you were growing up, did you want to be a baker? Or have you always wanted to be a writer? Or have you always had more than one dream and what do you say to young people who want to grow up to be more than one thing?
I never wanted to be a baker. I didn't even know I wanted to be an author until I was in college! Growing up, I actually wanted to be a Broadway actress. I eventually realized I liked writing stories more than performing in them, so I pivoted to creative writing. I think all young people should figure out what they love, and follow their passion - wherever it takes them!
8. Zoe's cupcake flavor invention reminds us of our Fruity Pebbles Cereal Milk ice cream. Have you ever tried it? Have you ever baked Zoe's cupcake invention?
I've never had that ice cream but it sounds good! I have made Zoe's cupcake invention, and I also posted it to my website here!
9. Was the Davis Square J.P. Licks your go-go ice cream store when you were here?
Yes! I went to the stores in Davis Square and Harvard Square all the time. Even now, whenever I visit Boston or Tufts, I always stop by to grab some.
10. What is your favorite flavor? (Is it the same as Zoe or her mom's?)
My favorite flavors are Coconut Almond Chip (what Zoe's mom orders in the book) and Coffee Cookies 'n' Cream!
11. Do you still write letters to people and send them via the mail (with stamps!!)?
I hadn't in a long time, but now I get to send mail to readers! I try to reply to all fan mail I receive, and I also include notes when I send signed bookplates or bookmarks to readers. (If anyone wants one, they can reach out through my website!)
12. Are you writing another book now? Will ice cream or cupcakes be a big part of that book too?
I'm finishing up edits on my second middle grade novel, which will be out in September 2021. Unfortunately ice cream and cupcakes don't play a part this time, but there is a scene featuring snickerdoodle cookies!
Thanks so much for reading From the Desk of Zoe Wasington, and interviewing me. I can't wait to be able to visit Boston and have your ice cream again!
Now Hiring Managers and Assistant Managers!
Wednesday, May 6, 2020
We are looking for enthusiastic team members, specifically General Managers and Assistant Managers.
Applicants need at least 2 years of management experience
New! Improved Cake Ordering!
Wednesday, April 1, 2020
Click Here to Order In-Stock and Custom Ice Cream Cakes!
We are updating our online order system to make it easier than ever to order your Ice Cream Cake for pickup at your local J.P. Licks store.
If you already have a Cow Card account, you may log in with your username, and automatically accrue points, redeem reward dollars, and pay with stored value. Forgot your Username?
Every store has a selection of in-stock cakes that can be ready for pickup in two hours, complete with your desired inscription.
Create your own custom cake, choosing your design, up to two ice cream flavors, and a center layer - ready for pickup in 72 hours.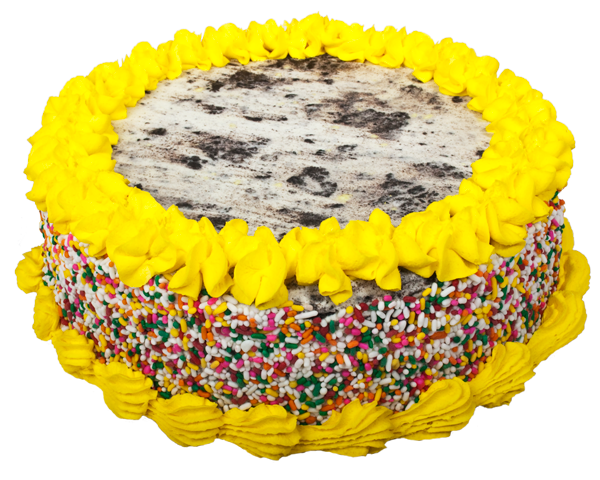 All Stores are Open for Take out and Delivery
Tuesday, March 24, 2020
Thank you for your continued support of your small, neighborhood businesses! All J.P. Licks locations are open for take out and delivery is available via online third party apps. You can still order and pick up cakes, baked goods, pounds of coffee, pints, quarts, lixwiches, and more and come in for a cone or your daily latte!
Check our website for store hours as we continue to adapt as more information develops. We will continue to follow all state mandated requirements, including closing all locations no later than 11 pm.
Thank you for your continued support during these unique and ever changing times. We hope our ice cream, coffee, pastries, and cakes can continue to provide you comfort and smiles from home.