Sundae Parties & Breakfast Catering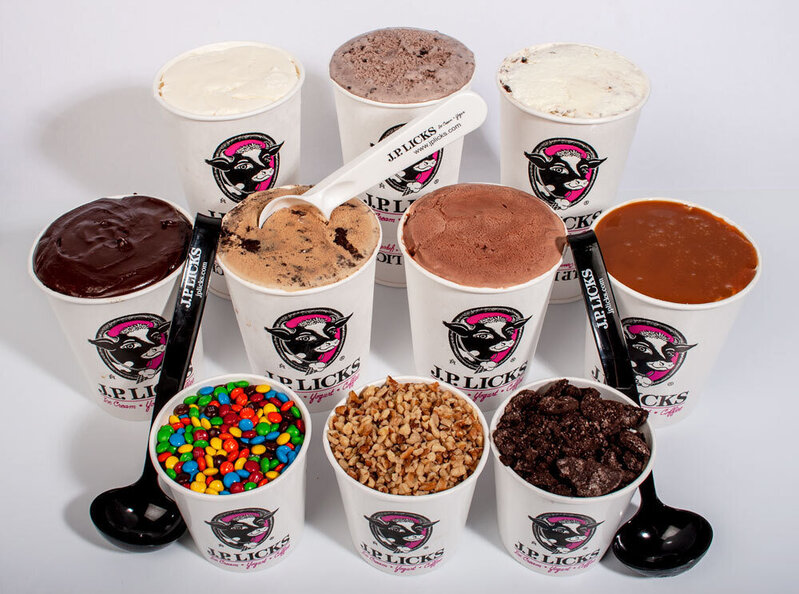 J.P. Licks can provide all the goodies for a successful event of any kind!
Treat your office or family to a J.P. Licks Sundae Party! Ice cream makes any event special. Show appreciation to your employees, celebrate a birthday or graduation, or make your wedding day extra special.
Choose from many different catering options designed to fit any size event. You may allow us to take care of every detail, complete with cheerful expert scoopers, or select a serve yourself party.
Dairy-free
options are also available for your gathering.

Please allow a minimum of 48 hours for us to coordinate your event. If you need it sooner, we have Make at Home Kits available at all of our stores that serve 4 people.

Quarts: $6.50 per person (30 person minimum) Tubs: $5.50 per person (35 person minimum); $30 Delivery fee applies.
Parties include ice cream, toppings, whipped cream, scoops, cups, spoons and napkins.
Need us to scoop for you?
We can arrange scoopers to staff your party for $30 per scooper per hour.
Submit a request by filling out the form below and we will be in touch shortly (it can take up to 24 hours for a response).
Catering Line: 617-524-5266
Email: catering@jplicks.com
Not meeting in person but still want to send your team a treat?
Send a J.P. Licks eGift card straight to your employees' inbox! Please email cowcard@jplicks.com to inquire about setting up a bulk order.