Our Neighborhoods
Israeli Restaurant Week, 2022
Thursday, February 3, 2022
Jewish Arts Collaborative
hosted their third annual Israel Restaurant Week during the last week of January and we brought back our Olive Oil Ice Cream to celebrate! We were challeneged to use an ingredient from
IsraeliBox
. The box was packed with olives, olive oil, honey, and spices from Ethiopia and Yemen. We chose to make our Olive Oil Ice Cream made with the Ptora Extra Virgin Olive Oil in the box, made with olives grown and pressed in Israel. We were one of over a dozen area restaurants participating this year. Israeli cuisine encompasses flavors from around the world - Spanish, Italian, European, Mediterranean and more and we saw this as an opportunity to bring together our communities over food. We hope you had a chance to try the flavor. Keep your eyes open for next year's recipe!
For Pete's Sake with Saloon in Davis Square
Monday, June 13, 2022
As you know, early in 2022, the J.P. Licks family lost a cherished friend and colleague, Pete Deacon, head of the Catering & Bakery department.
Pete liked staying hydrated with his favorite flavor Kool-aid, Sharkleberry Fin. We created a new sorbet flavor with it to honor and remember him and we hope you enjoy this flavor - a tropical twist of strawberry, banana, and orange - as much as he did.
The artwork for this new flavor was created by J.P. Licks employee, Mason Osorio, who worked for many years with Pete and continues to make ice cream with us in our JP headquarters.
In an unexpected twist, our Davis Square neighbors, Saloon, reached out to us about creating a signature drink with the new Sharkleberry Fin Kool-Aid Sorbet to further help us honor Pete. The drink they came up with - "For Pete's Sake"- tops our sorbet with rose bubbles, an Aperol-coconut milk-sherry-reserve-vinegar reduction topped with a flaming lime filled with overproof rum. It's a perfect way to raise a glass and celebrate Pete, who we lost far too early. Cheers.
Liz Hauck Visits J.P. Licks
Friday, September 24, 2021
On September 21, 2021, local author Liz Hauck joined us in our JP Headquarters for a book reading and discussion of her new memoir, "Home Made: A Story of Grief, Groceries, Showing Up - and What We Make When We Make Dinner." Liz grew up in Roslindale, frequenting J.P. Licks in JP with friends after school and after her various volunteer experiences. In her new book, she shares stories about food and community with teenaged boy in state care living in a group home in JP. She volunteered there for three years following the death of her dad, Charlie Hauck, who co-directed the human services agency that ran a constellation of of group homes in Boston for decades. We were beyond thrilled to have hosted Liz plus, our neighbor Papercuts, JP's independent bookstore, made Liz's book available for people to purchase. More than 40 people came in to listen to the reading and chat with Liz on the last evening of summer, meeting their neighbors and connecting with each other. It's everything we want our stores to be and connecting with the team at Papercuts was incredibly special. We're so looking forward to hosting another local author soon.
Celebrating National Book Lovers Day
Tuesday, August 10, 2021
August 9th is National Book Lovers Day and we decided to team up with our Assembly Row neighbors, All She Wrote Books. we're celebrating with our Somerville neighbor, All She Wrote Books. All She Wrote Books, founded by Christina Pascucci Ciampa, opened in Assembly Row just over a year ago. We thrilled at the edition to a bookstore in the Row - we picture people picking up a new book to read and then sitting down in any of the copious outdoor seating made available by the folks at the Row with their favorite flavor of ice cream and getting lost in stories. So when we saw this year's National Book Lovers Day coming up on the calendar, we reached out to Christina and asked if she would like to partner. The plan we came up with is simple - purchase a children's book, a chapter book, or a young adult novel on 8/9, then come into our Assembly Row store with proof of purchase for a $1.00 off your order.
The day was successful! Lots of you stopped by to pick up books by familiar and new authors for your little ones. We're looking forward to future events with the All She Wrote Books team - stay tuned for more as we move into the Fall!
Johnny Cupcakes and J.P. Licks Partnership
Wednesday, June 23, 2021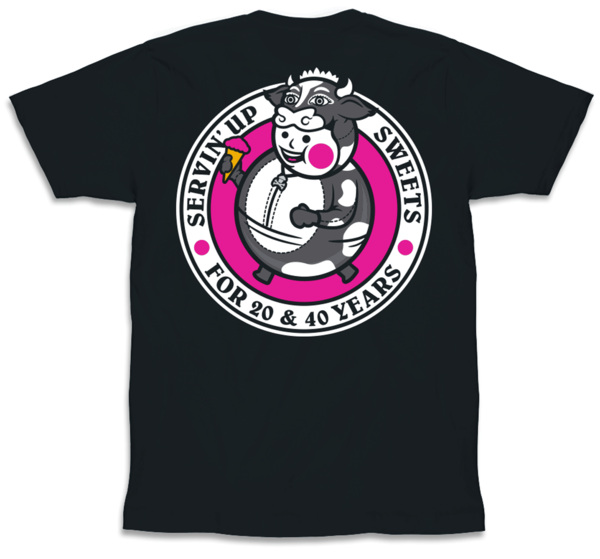 Back in 2020, we began a collaboration with our Newbury Street neighbors, Johnny Cupcakes. Johnny Earle, founder of Johnny Cupcakes, and Vincent Petryk, founder of J.P. Licks, sat down to talk unique flavors and t-shirt designs.
We were all set to go come early Spring, 2020. Obviously, things were put on hold for a while. It took several tries to get just the right level of smokiness in our new Applewood Smoked Vanilla ice cream last year but we had the recipe and kept it tucked in our big recipe book. Once we knew we could launch everything in 2021, Johnny and Vince worked together to update the t-shirt design to reflect their 20th anniversary and our 40th.
Both the tee and the ice cream flavor are available for a limited time in all J.P. Licks stores and you can order the t-shirt from our website. Vincent and Johnny love seeing these sweet treats as unique as their businesses now available to you!
Mayor Janey Visits J.P. Licks
Tuesday, May 18, 2021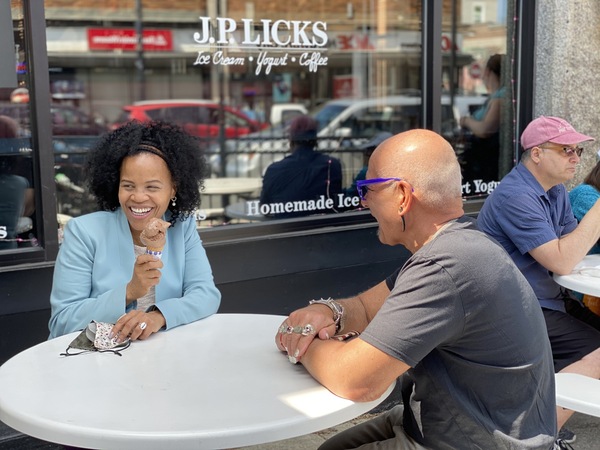 On Saturday, 4/24 Mayor Kim Janey did a walking tour of JP in support of the small businesses who have been working hard to keep our doors open through the pandemic. It included stops at our neighbors City Feed, Nckls & Dimes, and of course, a sit down with founder & owner Vincent Petryk over some Brownie Brownie Batter Ice Cream! We had a great time meeting Mayor Janey, her staff, and tons of neighbors! Check out some
photos
from the day!
J.P. Licks and the Boston Marathon
Monday, May 10, 2021
It has been two Marathon Mondays since we have seen a sea of runners go past our stores. We have seriously missed the energy this day brings to our "race adjacent" stores. Both the runners themselves but all of the people who come out to cheer them on. Both strangers and friends alike stand on the sidewalks and cheer and we revel in the energy you brint to our "race adjacent" stores - Wellesley, Coolidge Corner, Newbury Street, Boylston Street, Charles Street - we love being so close to the route that we can hear the cheers, see the silver blankets, and help you refuel for more cheering! The race is supposed to return to the street this Fall - until then, keep training and stop by to say HELLO anytime. Thanks to WBZ for bringing us all together for this Spring's Marathon Monday.
2021 Sock Drive Was a Huge Success!
Monday, March 22, 2021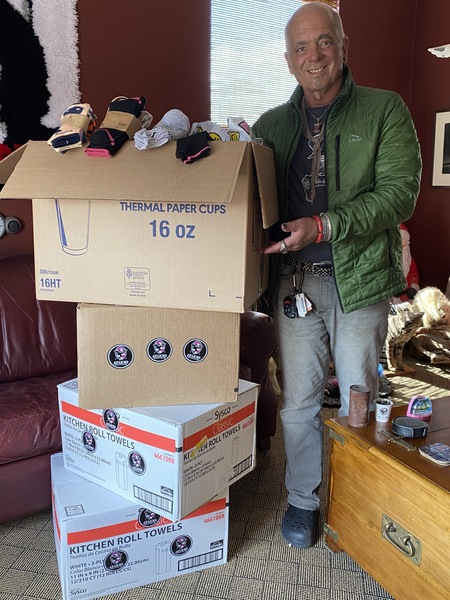 Our 2021 Sock Drive was a huge success! We collected 826 pairs of new socks and brought them over to Rosie's Place in Boston mid-March. That's more than double the number we collected in 2020! Thank you to everyone who contributed to this year's drive! We are already hatching plans to collect over 1,000 in 2022 and we know with this community, we can do it!.
Squirrel Nut Zipple and the 2020 JP Music Festival
Friday, September 18, 2020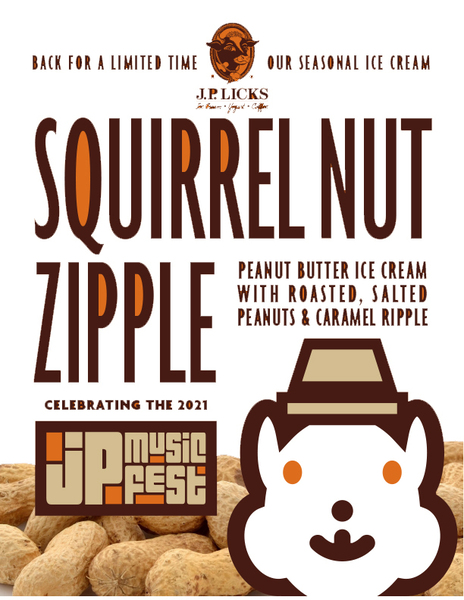 The JP Music Fest has been postponed this year but we couldn't let a year go by without serving the official ice cream flavor of the festival, Squirrel Nut Zipple! A peanut butter ice cream with roasted, salted peanuts, with a caramel ripple. It's a symphony for the tastebuds! Come in to enjoy it now or wait until Fall 2021 - when the JP Music Fest will be back. We hope everyone is still finding ways to enjoy live music and the arts during the pandemic - whether it be via socially distant concerts outdoors or tuning into the innumerable performances happening online! Grab a pint of your favorite flavor to enjoy during while watching a concert happening half way around the world or in your own backyard.
J.P. Licks & Author Janae Marks
Monday, August 31, 2020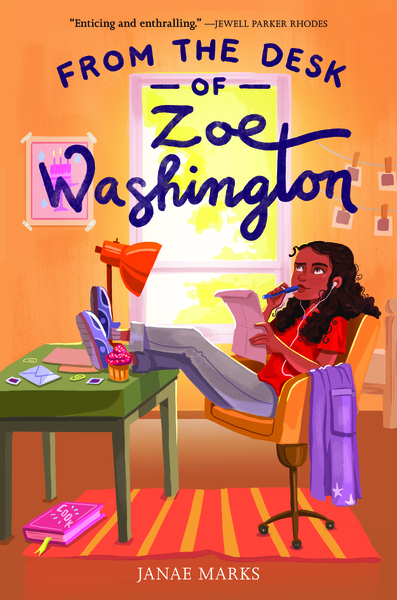 Janae Marks wrote the book "From the Desk of Zoe Washington", set in Medford, Somerville, and Cambridge, MA. One of the places Zoe and her friends and family visit is the J.P. Licks in Davis Square and we just had to sit down and chat with her about how she came to set some of her story at J.P. Licks!
1. How did you decide where to set Zoe's story? Did you grow up or go to school near Davis Square?
I went to college at Tufts University, so I lived on campus down the road from Davis Square for several years. I loved walking to Davis Square to hang out, watch a movie, and grab J.P. Licks!
2. Where did your idea for Zoe's story come from?
What inspired me to write this story was a podcast! Back in 2014, I was obsessed with the first season of Serial, which told the story of a man who is in prison for murder, but many believe could be innocent of the crime. After the season ended, I kept thinking about wrongful convictions, and wondered how often they happen. Since I write for kids, I started to wonder what it's like to have a parent in prison, and what it would be like to find out that they might actually be innocent. Zoe Washington was born from there!
I decided to make Zoe an aspiring pastry chef because I love watching baking competition shows, like Kids' Baking Championship on the Food Network. I thought it'd be fun to have Zoe be as passionate about baking as the kids on those shows.
3. Can you tell us a little bit more about the Innocence Project, the organization that helps Zoe?
The Innocence Project is an organization that uses DNA testing to exonerate the wrongfully convicted. They also help reform the criminal justice system. You can learn more about them on their website: innocenceproject.org/.
4. Did you have to spend a lot of time researching for the book? Did you describe Davis Square and Harvard Square from memory or did you come back and take a lot of pictures?
Yes, I spent a lot of time researching wrongful convictions, systemic racism within the criminal justice system, The Innocence Project, and baking! I actually described Davis and Harvard Square from memory, with the help of Google images.
4. Did you have a best friend growing up that lived next door to you? And did you have a fight with them one summer too?
I never had a best friend live right next door to me. The conflict between Zoe and Trevor is fictional, but I did have an experience in the sixth grade that led to me losing friends. It's so common for friendships from elementary school to change once kids get to middle school, so I wanted to explore that theme.
5. What's your favorite song? Do you write about it in "From the Desk of Zoe Washington"?
Growing up, I loved Mariah Carey, which is why I included "One Sweet Day" (her duet with Boyz II Men) in the book. I listened to that album, Daydream, constantly when I was Zoe's age. Listening to it now still brings back memories of that time!
6. Do you also bake cupcakes? Or do you enjoy eating them more? What's your favorite flavor of cupcake?
When I wrote this book, I wasn't much of a baker, even though I love those baking competition shows. But I've been baking more lately! I'd still rather eat cupcakes than bake them, but it's pretty satisfying to make them yourself. My favorite flavor is similar to Trevor's - chocolate!
7. When you were growing up, did you want to be a baker? Or have you always wanted to be a writer? Or have you always had more than one dream and what do you say to young people who want to grow up to be more than one thing?
I never wanted to be a baker. I didn't even know I wanted to be an author until I was in college! Growing up, I actually wanted to be a Broadway actress. I eventually realized I liked writing stories more than performing in them, so I pivoted to creative writing. I think all young people should figure out what they love, and follow their passion - wherever it takes them!
8. Zoe's cupcake flavor invention reminds us of our Fruity Pebbles Cereal Milk ice cream. Have you ever tried it? Have you ever baked Zoe's cupcake invention?
I've never had that ice cream but it sounds good! I have made Zoe's cupcake invention, and I also posted it to my website here!
9. Was the Davis Square J.P. Licks your go-go ice cream store when you were here?
Yes! I went to the stores in Davis Square and Harvard Square all the time. Even now, whenever I visit Boston or Tufts, I always stop by to grab some.
10. What is your favorite flavor? (Is it the same as Zoe or her mom's?)
My favorite flavors are Coconut Almond Chip (what Zoe's mom orders in the book) and Coffee Cookies 'n' Cream!
11. Do you still write letters to people and send them via the mail (with stamps!!)?
I hadn't in a long time, but now I get to send mail to readers! I try to reply to all fan mail I receive, and I also include notes when I send signed bookplates or bookmarks to readers. (If anyone wants one, they can reach out through my website!)
12. Are you writing another book now? Will ice cream or cupcakes be a big part of that book too?
I'm finishing up edits on my second middle grade novel, which will be out in September 2021. Unfortunately ice cream and cupcakes don't play a part this time, but there is a scene featuring snickerdoodle cookies!
Thanks so much for reading From the Desk of Zoe Wasington, and interviewing me. I can't wait to be able to visit Boston and have your ice cream again!
Scooping it Forward
Tuesday, August 4, 2020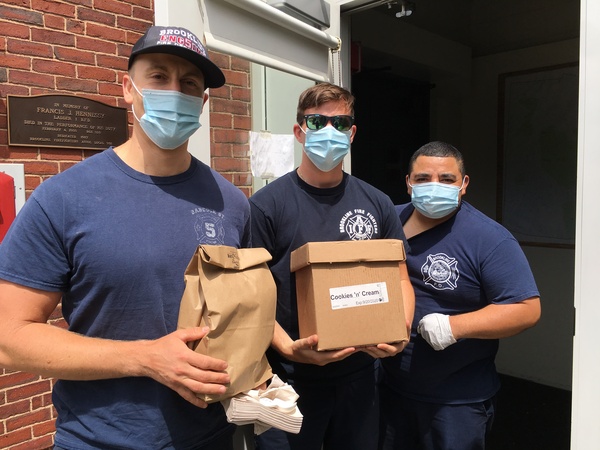 Last month we started making deliveries to firehouses in our different neighborhoods. So far, we've visited 15 around town and we have noticed a bit of a pattern. Each time we ring the bell with our big freezer bag packed with a tub of ice cream, spoons, cups, napkins, and 3 different types of toppings, the door is answered by a firefighter with a slightly guarded, concerned look on their face. "Can we help you?" And then we start to explain who we are and why we're there. "Hi, our customers supported the campaign to bring you ice cream as a thank you for all you've done and continue to do during this pandemic so we have some ice cream for you and everyone in the house."
To a person, their faces fill with huge grins (that we can sometimes see because we stay more than 6 feet from the door) or their eyes crinkle up with excitment, or they say, "really? for us?" and then they call over one of their crew mates. "Hey, check it out, ice cream!" They universally seem to turn into little kids for a moment, full of delight. It brings us so much joy to see how happy it makes them, to see that ice cream truly does make people happy, no matter how old they are. And we are so grateful to everyone who has made these interactions possible. Who have made it possible to bring this joy to these first responders in our neighborhoods.
We have a few more deliveries to do and we look forward to each and every smile.
Thank you.
Meet Mr. Buttons From Lifting Spirits
Friday, April 24, 2020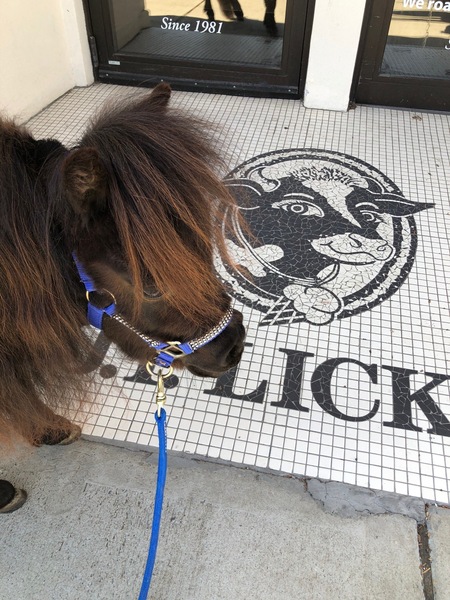 We love when humans bring their dogs by the store to visit us. While only service dogs can come inside, we can see your puppers outside, knowing a treat awaits them when their people come back out, or when you share photos and video on social media of your doggos enjoying their cow paw ice cream.
Last week, we had a horse of a different color visit us in our Andover store. A literal horse! Well, a miniature pony, to be exact. Lifting Spirits Miniature Therapy Horses is one of our neighbors north of the city. They currently work with 75 organizations from nursing homes to children's hospitals, libraries to veteran centers, to bring comfort, smiles, and more to people of all ages and abilities. They visit schools and run programs like "Just Say Whoa" aimed at teaching young people to stand up to bullying - to be an "upstander" instead of a "bystander" and "Read to a Mini" which helps children and adults alike learn to read.
Right now, like so many of us, they can not visit their friends like they normally do. But that doesn't mean they are willing to stop bringing smiles to people's masked faces! Plus, they still need exercise. So their trainers have started taking them on daily walks around town to visit small businesses still open for business to try and raise the spirits of essential workers. Now, just like dogs, these ponies can't come inside and they are observing social distancing rules too. But just seeing them out and about sure brought a smile to our face!
This is Mr. Buttons. He's 26" tall and thrives on attention and, we are told, loves a good sugar cone. (His sister, Peaches, loves green apples but won't say no to a cone either.) Lifting Spirit has 4 trained minis and 2 more in training. Three of these beauties are rescues themselves and have a ton of love to share. We hope to see Mr. Buttons and his four legged family again really soon!
You can find out more about Lifting Spirits here.
They are a 501c3 completely dependent on grants and donations for the care, training, and outings for therapy sessions.
See you soon, Mr. Buttons!