Our Neighborhoods
Meet Mr. Buttons From Lifting Spirits
Friday, April 24, 2020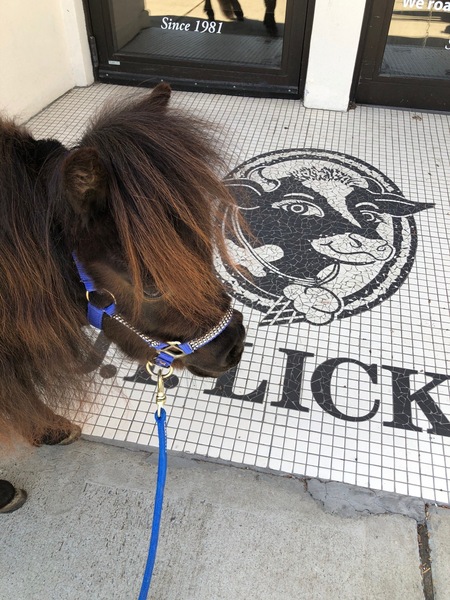 We love when humans bring their dogs by the store to visit us. While only service dogs can come inside, we can see your puppers outside, knowing a treat awaits them when their people come back out, or when you share photos and video on social media of your doggos enjoying their cow paw ice cream.
Last week, we had a horse of a different color visit us in our Andover store. A literal horse! Well, a miniature pony, to be exact. Lifting Spirits Miniature Therapy Horses is one of our neighbors north of the city. They currently work with 75 organizations from nursing homes to children's hospitals, libraries to veteran centers, to bring comfort, smiles, and more to people of all ages and abilities. They visit schools and run programs like "Just Say Whoa" aimed at teaching young people to stand up to bullying - to be an "upstander" instead of a "bystander" and "Read to a Mini" which helps children and adults alike learn to read.
Right now, like so many of us, they can not visit their friends like they normally do. But that doesn't mean they are willing to stop bringing smiles to people's masked faces! Plus, they still need exercise. So their trainers have started taking them on daily walks around town to visit small businesses still open for business to try and raise the spirits of essential workers. Now, just like dogs, these ponies can't come inside and they are observing social distancing rules too. But just seeing them out and about sure brought a smile to our face!
This is Mr. Buttons. He's 26" tall and thrives on attention and, we are told, loves a good sugar cone. (His sister, Peaches, loves green apples but won't say no to a cone either.) Lifting Spirit has 4 trained minis and 2 more in training. Three of these beauties are rescues themselves and have a ton of love to share. We hope to see Mr. Buttons and his four legged family again really soon!
You can find out more about Lifting Spirits here.
They are a 501c3 completely dependent on grants and donations for the care, training, and outings for therapy sessions.
See you soon, Mr. Buttons!
LEGO Mural in Assembly Row
Tuesday, March 10, 2020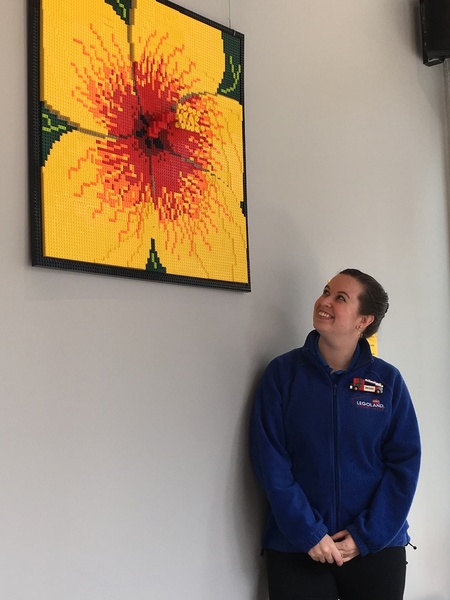 March has brought us another really fun partnership with one of our neighbors. We've partnering with LEGOLAND Discovery Center Boston in Assembly Row to feature "Hibiscus" the mural created entirely of LEGOS by LEGOLAND Discovery Center Boston's Master Model Builder, Megan Amaral.
Megan won the Brick Factor competition to become the Master Model Builderat the Assembly Row LEGOLAND iin 20165. She played with LEGOs as a kid and her love of building structures led her mother to suggest studying architecture in college. Megan designs and build both 3D structures and art pieces like this mural which is 2.5'x2.5'. But if you look around Assembly Row, you'll find a mural over 10 feet long that translates the buildings of the shopping center into a world of LEGOS. Megan also built us a little mini ice cream shop window, complete with baked goods, coffee cups, and ice cream (it just tickles us to no end!). Her mural will stay up for 3 months and we hope to continue featuring her work throughout 2020.
Megan is the only female Master Model Builder in all of North America and one of only four in the world. Read more about her work here. We'd love to see what you create with LEGOS - send us a photo and share your love of LEGOs and ICE CREAM!
What's Inside That Store?
Tuesday, January 14, 2020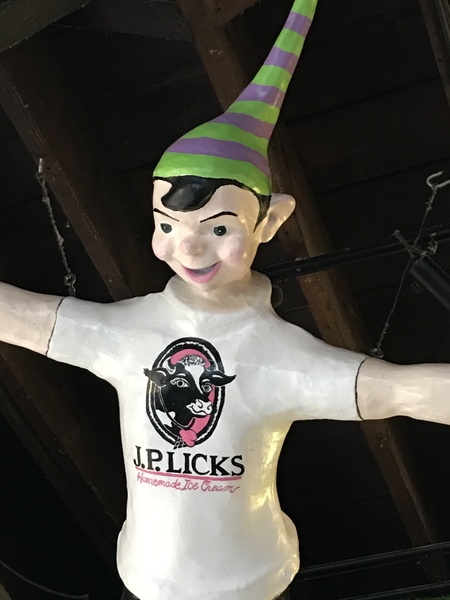 Have you ever looked up in our Jamaica Plain store and noticed a flying elf or taken a photo with our ceramic cow ? Or sat in the teacup that sits in the middle of our Mission Hill location? Where in the world does Vince FIND these things when he's creating the interiors of the stores? Once upon a time, there was an amusement park in Whitman, MA called King's Castle Land. Founded in 1946, it had a nursery rhyme theme with a drawbridge entrance, an oversized shoe, and 14 rides. But in 1994, the owners decided to retire and shut down the park. The rides were auctioned off - including the carousel which went to New Mexico and the Ferris wheel moving to Toronto. But Vince purchased the cow, the tea cup, and the flying elf during the park's auction.
Vince added the J.P. Licks t-shirt to the elf and raised him up, gave the cow a home in our JP store and named her Clementine (of course!), and originally, the tea cup lived in our first Newbury Street store. When we closed that store, the tea cup moved to our Mission Hill store and has been a customer favorite for decades. Clementine has inspired the adoption of two other cows -one outside our Dedham store and one outside our Lynnfield store. Come on by and see it all for yourself!
Apprentice Learning and J.P. Licks
Wednesday, November 20, 2019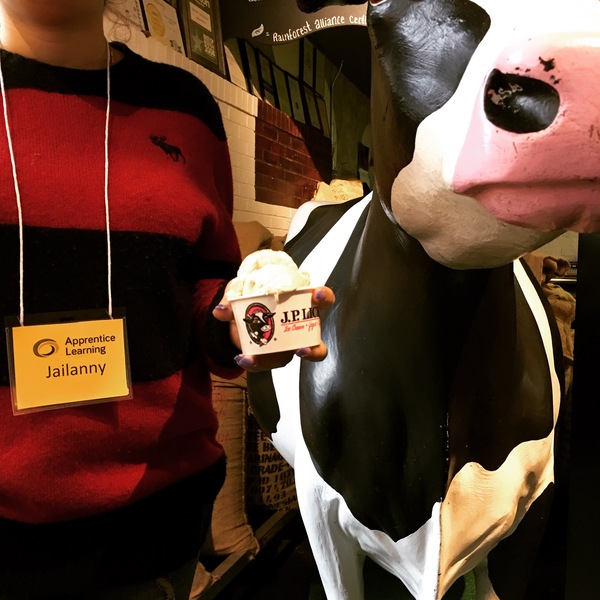 J.P. Licks loves finding ways to deepen our connection with our communities. Recently, we started working with Apprentice Learning, an organization connected to Boston Public Schools to improve Boston high school graduation rates and make the transition from middle school to high school a bit smoother. An eighth grader from a middle school near our Jamaica Plain headquarters has joined us for a 6 week internship this fall, coming in 2 hours once a week. She is half way through the program and even with only 6 hours under her belt, she has already learned what it takes to roast and package all the coffee we roast here in JP, how to start making an ice cream cake (and just how different it is from baking a cake!), what it takes to create a content calendar for the marketing department (even for just a three month period), and worked on improving our online delivery menus. Turns out there are benefits we never even thought of to having our ice cream makers, cakers, coffee roasters, bakers, and office all in one place - it exposes our interns to so many experiences and they can chose their favorites to focus on! Since this week marks her half way point, you know we'll be celebrating with ice cream! Check out the Apprentice Learning website to see if your business could host a student or if your middle schooler can take part!
https://apprenticelearning.org/about-us/