Milestones at J.P. Licks
Happy Anniversary, Compost Style
Friday, December 20, 2019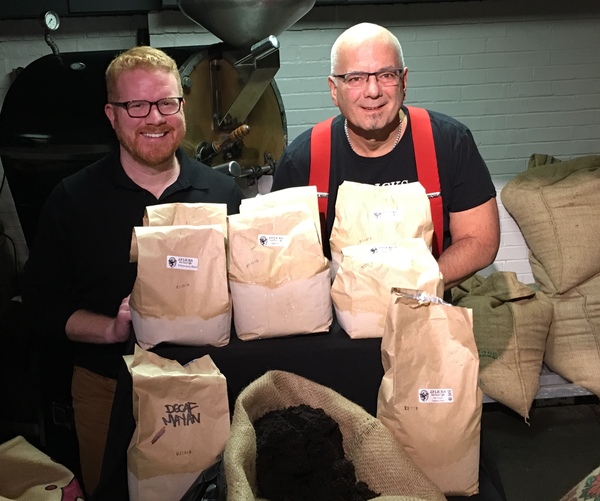 A year ago this week, City Councilor Matt O'Malley (District 6) joined us in our Jamaica Plain World Headquarters to help us launch our new composting program. Councilor O'Malley heads up the Environment & Sustainability Committee and has been working tirelessly to help steer Boston towards being a greener city. So we naturally reached out to him when we decided we wanted to start a new green initiative of our own. Our JP store goes through so much coffee every day and until a year ago, we threw all the grounds away - and then we learned what a resource those grounds actually are! Coffee grounds are considered a green compost (along with things like food scraps and grass clippings) and can be added to a compost bin/pile easily - just dump it in and mix it with brown compost materials (like newspaper and dry leaves). Or the grounds can be used directly as fertilizer - it can me mixed directly into soil which helps improve drainage, water retention, and attracts earthworms and add nitrogen, phosphorus, potassium, magnesium, and cooper to your soil. It might also deter slugs, snails, and rabbits (rabbits DO NOT like the smell of coffee!). Acidic loving plants like azaleas, hydrangeas, blueberries, lilies, and root veggies love coffee grounds mulched into their soil as do pine trees (which can really use the added nitrogen this season) but keep it away from your tomatoes!
So now you know how and why to use coffee grounds but where can you get enough to make a difference in your compost pile or garden? That's where we come in! Instead of throwing away our coffee grounds, we now bag them up (reusing the original bags the whole beans came in) and put them up for our customers - you! - to pick up every Tuesday and Thursday in our JP store. We're keeping about 75 pounds of trash out of landfills every week - which means almost 4,000 pounds since we started collecting grounds a year ago! And hopefully, your gardens have been blossoming as a result of what you have picked up at the store! Our West Roxbury store also collects their grounds for us to put out in JP and our Coolidge Corner and Mission Hill stores make grounds available as well. Our Andover store will have grounds available again in the spring. Come on in to JP any Tuesday or Thursday and grab a bag - your garden will thank you. And we're grateful to Councilor O'Malley for helping us launch this program and for continuing to support it. He helps bring awareness to our efforts and he continues to push for curbside compost pick up. So happy one year anniversary, compost style, and thank you for helping our garden grow!
Happy Anniversary Salted Caramel Cookies n Cream!
Monday, December 2, 2019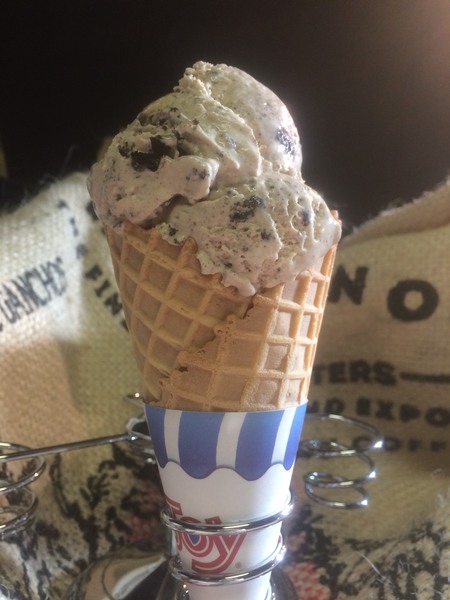 How quickly a year flies by!
It's not too often we make a featured flavor a permanent flavor. In fact, December marks the 1 year anniversary of the last time we did it! Our Salted Caramel Cookies 'n' Cream ice cream was so popular that even though it has been years since we'd done it, we made it a permanent flavor. That means every store has it every day, no waiting for a new month to come around. A lot of factors go into the decision - how often do you ask for it, how much do you eat each time it comes out, do customers in all of the stores like the flavor or are only people in Newton eating it but no one in Jamaica Plain has even taken a bite, are the key ingredients readily available or is the main ingredient a seasonal fruit that we only want to use fresh? But Salted Caramel Cookies 'n' Cream was pretty universally loved and you let us know it! What do you think the next permanent flavor might be?