South Boston
Candy Altman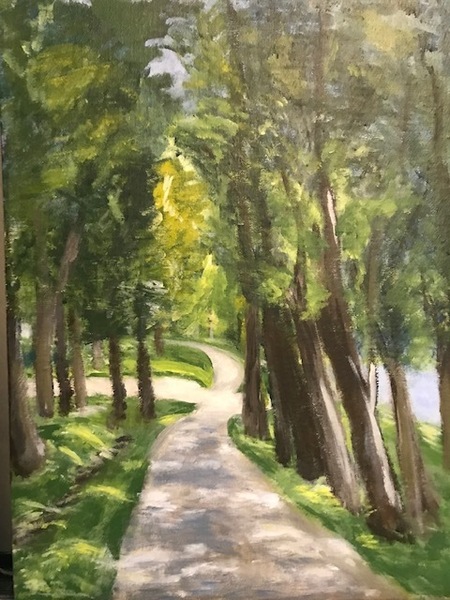 Candy Altman, Artist
As a working journalist for 40 years, I have been trained to look beyond the obvious. My hope is that my paintings do just that, bringing you into a space, feeling a connection.
I was Vice President of News with Hearst Television for many years, traveling the country and working with news organizations to help them be their best. Before that, I was News Director at WCVB here in Boston. As journalists, we are storytellers, chronicling the lives of people in our communities. I was drawn to painting about 5 years ago for reasons I can't explain. But I find that each painting has its own story- one created by the person viewing it. A beautiful scene evokes a memory, a sunset makes you exhale. The stories of our lives and nature, forever written on canvas.
I have taken classes at the Museum of Fine Arts in Boston, many with artist and teacher Linda Hoetink www.lindahoetink.com (who kept me and my fellow art students sane and creative by doing zoom classes with us each week through the pandemic) and I have been a private student of Donald Jurney, one of New England's great landscape artists who has a studio in Amesbury(Instagram DonaldJurney). One of my early inspirations was the work of Kittery Maine artist Theresann D'Angelo who has inspired me with her color magic. (Ogunquit Artists Association)
My work has been accepted into juried shows at the Galley West Art Gallery in Orleans, MA(2022), Fusion Art's Women Artists online exhibition(2020) and at the Brookline Arts Center in Brookline, MA.(2020, 2021) I am inspired by all forms of art- and while my 'style' is still developing, I find pleasure in experimenting and learning. This show has examples of that. Landscape, which is what I most drawn to, abstracts of landscape , still life. I consider myself an emerging artist. A learner who plans to keep working at it.
Here's a link to my website: www.caltmanarts.com I
do custom work as well. You can reach me at candyaltman@gmail.com and 917-592-8762
Thank you for coming on this journey with me.