South Boston
Stephanie Mobbs Deady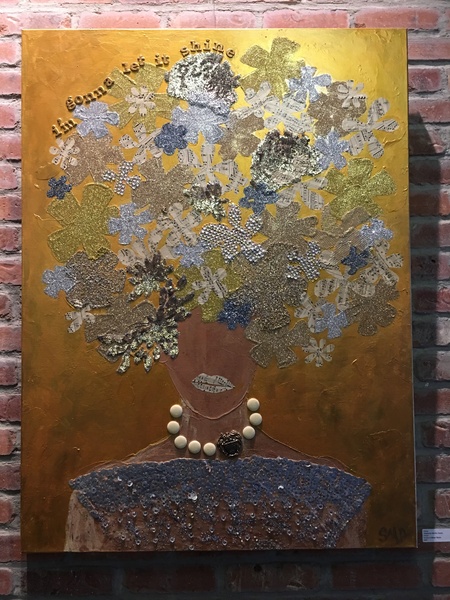 I've loved art as long as I can remember. When I was really young my mother gave be a box filled with paper and paint and glue and glitter and buttons and ribbon. She put anything and everything in that box, and I created fun stuff with it every day. I kind of wish I still had that box — but in a way I do.
My studio is in a structure that has antique church windows and old strapping on the walls. It's a funny mix of a barn and a sanctuary. The walls are covered with half painted canvases as I'm always working on many paintings at the same time. The shelves are lined with books about the lives of artists and photos of their work, I rarely read them, but I love having them. There is something comforting about having old cherished books nearby. The drawers are filled to the brim with paper and cloth cut into shapes, beads and bobbles, anything sparkly, actually, all sorts of stuff that I think may end up in a painting someday. There is also a wall where I pin photos, newspaper clippings, drawings or anything I just happen to love.
The most inspiring elements in my studio have to do with my brother. He was a talented artist and inspirational figure in my life and in the lives of many others. I use many of his brushes that he gave me years ago and I have some of his original artwork scattered around, including, my favorite, his self-portrait. I feel like he motivates me from above to keep pushing forward through this artistic journey to see where it will lead. Check out his beautiful work at RickMobbsArt.com.
As for my artwork? It all began with a cow. I painted a large funny looking cow with the words "No Use Crying Over Spilled Milk" and a friend who owns a shoppe in my town sold it the same day I brought it to her. I have painted a lot of funny cows since then. If you look closely you can see sadness in some, happiness in others, a range of feelings that possibly coincide with my life. I have also developed a style of painting women, "Wild Women", who are faceless with many different skin tones. They have cut out sheet music, beads, sparkles & buttons in their hair and in their dress. I never really know what I'm going to paint next, just that I don't ever want to stop creating.
https://www.stephaniemobbsdeady.com/