Newton Centre
Ellen Foust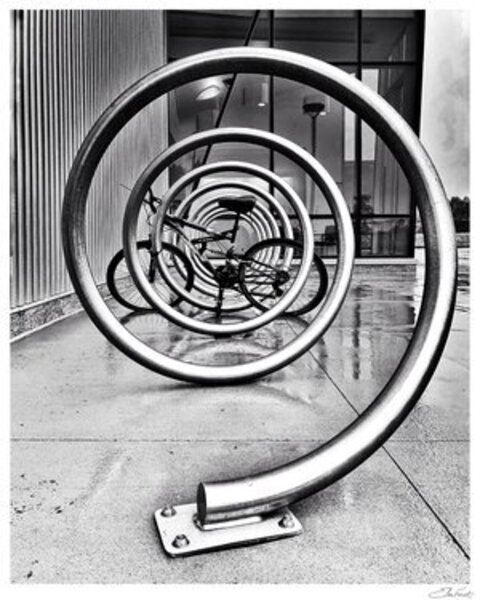 Ellen Foust is an artist and photographer with a passion for teaching. Her bold, graphical photographs explore the interactions of light and weather on a scene or object. They have been exhibited widely, including at Rutgers University and the Brookline Library.
Skies of Bullough's Pond, a set of eight photos, can be seen currently on the Newton Conservator's website.
https://newtonconservators.org/ellen-foust/
. An image of Bullough's Pond is currently on display in the Newton Free Library and others are in online exhibits at Temple Beth Zion (Brookline) and the Newton Camera Club.
About the Photos at J.P. Licks
The Spiral Quintet is a composition of five photographs of the bike rack outside the Integrated Science Complex on the UMass Boston campus taken in July & August of 2019. There are three unique images; two are included twice, doubly reversed (flipped vertically/black-white tones inverted). This results in a symmetrical composition, displayed for the first time together at J. P. Licks. Notice the dynamic shapes and pulsating tones.
Instagram: @ellenfoustphotography
Facebook: Ellen Foust Photography