Newbury Street
Michelle Lander Feinberg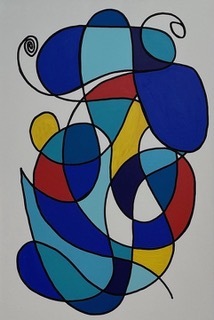 Having painted for many years, I began to paint on a daily basis after losing my brother a couple of years ago as a distraction from my grief. As I found myself painting while listening to the music for which he and I shared a passion (classic rock), the act of creating art transformed into a deeper connection with him for me.
Abstract art invites the mind to see something different each time you observe it. For me, this brings a never-ending interest in a singular piece. Finding fulfillment and happiness in creating colorful abstract art, I paint with the hope that my artwork brings joy to those who see it.
I have always lived in Massachusetts. In addition to painting, I am also the author of the Cooper the Dog children's book series, a mother of five, and an attorney. Although not inherently brave, I have donated a kidney and walked on fire.