Newbury Street
Stephanie Cohen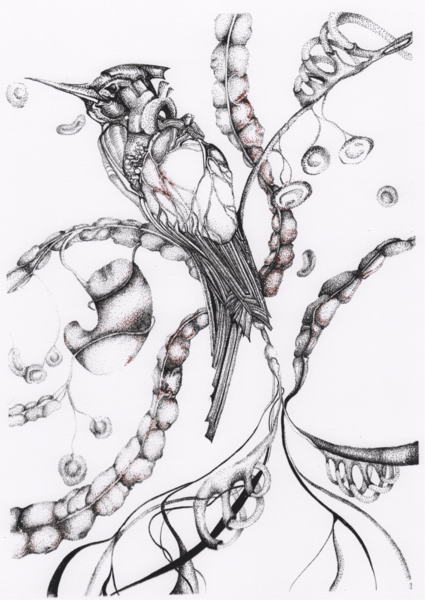 Stephanie Cohen was born in the suburbs of Chicago and earned her B.F.A. from The School of the Museum of Fine Arts with a focus in ceramics and graduated summa cum laude with a B.S. in Biochemistry with a minor in pre seventeenth century art history from Tufts University. She finished her art minor at the Universidad Rey Juan Carlos Vicalvaro campus in Madrid. She is currently studying at the Tufts University School of Medicine as a member of the class of 2020.
Her professional art experience includes two years interning at the Harvard Department of Ceramics and contribution to the Boston Public School Project, organized by Debra Manley, that incorporated the artwork of over 3,000 students across the city of Boston. She also designed two journal covers for World Neurosurgery slated for May 2019 and a second one for the summer of 2019. She has one work in the permanent online collection on clinician well being and resilience through the National Academy of Medicine.
Stephanie's first artistic concentration was a series of 12 drawings that incorporated human anatomy within the inorganic shells of musical instruments. These drawings articulate the idea that the human body relies on harmony and equilibrium: If one violin's E string snaps, then the instrument becomes tonally deficient. This would subsequently compromise not only the contribution of the string section to the orchestra but also the balance of the entire symphony. Biology is analogous; a chemical imbalance on a microscopic level impacts the body as a whole. The field of medicine exploits cellular and molecular interconnectivity in treatment. However, physicians are not only treating diseases; physicians are treating patients. In addition to pathology and objective scientific analysis, physicians face ethical, moral, and humanistic quandaries. Doctors are scientific and social detectives. They dissect pathways and figure out the most appropriate intervention, but also must seek to understand complex social determinants of health. Both socially and clinically, they wonder "how things work!" Biology, on its own, is symphonic, but, it is the combination of humanist and scientific roles that physicians assume that make the field of medicine enthralling.
Since this first series of drawings, Stephanie has moved on to create more technically intricate renderings that combine musical and anatomical elements after gaining better control of drawing as a medium through her studies at SMFA. But thematically, she also has expanded to incorporate animals and insects into her renderings. Enzymes employ "catalysis by approximation" to bring reactants into physical proximity to increase the rate of reaction. Many borders in this world are strict and rigid; There is a divide between academic fields of study, political ideas, and spiritual beliefs. Inspired by this polarization, my art seeks to establish and enhance visual/structural homologies between seemingly incongruous elements by breaking down borders and recombining human anatomy with other animal species, musical instruments, and even clocks. It still is all about balance and harmony. How can we recombine these different elements in a way that still adheres to technical "rules" of art and create balanced images? How do we synthesize this data to make something that visually seems to make sense?
If you look close enough, some of them might also relate to a specific disease process such as the frog representing warty vegetations on both sides of valves of the heart associated with libman sacks endocarditis (lupus endocarditis), or different types of arrhythmias that feed up into the vascular tree. These drawings, like medicine in general, are simultaneously abstract and scientific. Stephanie is excited to continue to learn more from interacting with physicians and other members of the healthcare team as well as patients to see what she might be inspired by next!