Our Neighborhoods
Celebrating National Book Lovers Day
Tuesday, August 10, 2021
August 9th is National Book Lovers Day and we decided to team up with our Assembly Row neighbors, All She Wrote Books. we're celebrating with our Somerville neighbor, All She Wrote Books. All She Wrote Books, founded by Christina Pascucci Ciampa, opened in Assembly Row just over a year ago. We thrilled at the edition to a bookstore in the Row - we picture people picking up a new book to read and then sitting down in any of the copious outdoor seating made available by the folks at the Row with their favorite flavor of ice cream and getting lost in stories. So when we saw this year's National Book Lovers Day coming up on the calendar, we reached out to Christina and asked if she would like to partner. The plan we came up with is simple - purchase a children's book, a chapter book, or a young adult novel on 8/9, then come into our Assembly Row store with proof of purchase for a $1.00 off your order.
The day was successful! Lots of you stopped by to pick up books by familiar and new authors for your little ones. We're looking forward to future events with the All She Wrote Books team - stay tuned for more as we move into the Fall!
J.P. Licks & Author Janae Marks
Monday, August 31, 2020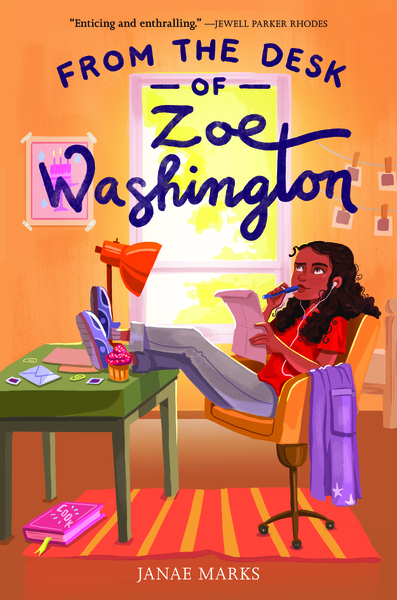 Janae Marks wrote the book "From the Desk of Zoe Washington", set in Medford, Somerville, and Cambridge, MA. One of the places Zoe and her friends and family visit is the J.P. Licks in Davis Square and we just had to sit down and chat with her about how she came to set some of her story at J.P. Licks!
1. How did you decide where to set Zoe's story? Did you grow up or go to school near Davis Square?
I went to college at Tufts University, so I lived on campus down the road from Davis Square for several years. I loved walking to Davis Square to hang out, watch a movie, and grab J.P. Licks!
2. Where did your idea for Zoe's story come from?
What inspired me to write this story was a podcast! Back in 2014, I was obsessed with the first season of Serial, which told the story of a man who is in prison for murder, but many believe could be innocent of the crime. After the season ended, I kept thinking about wrongful convictions, and wondered how often they happen. Since I write for kids, I started to wonder what it's like to have a parent in prison, and what it would be like to find out that they might actually be innocent. Zoe Washington was born from there!
I decided to make Zoe an aspiring pastry chef because I love watching baking competition shows, like Kids' Baking Championship on the Food Network. I thought it'd be fun to have Zoe be as passionate about baking as the kids on those shows.
3. Can you tell us a little bit more about the Innocence Project, the organization that helps Zoe?
The Innocence Project is an organization that uses DNA testing to exonerate the wrongfully convicted. They also help reform the criminal justice system. You can learn more about them on their website: innocenceproject.org/.
4. Did you have to spend a lot of time researching for the book? Did you describe Davis Square and Harvard Square from memory or did you come back and take a lot of pictures?
Yes, I spent a lot of time researching wrongful convictions, systemic racism within the criminal justice system, The Innocence Project, and baking! I actually described Davis and Harvard Square from memory, with the help of Google images.
4. Did you have a best friend growing up that lived next door to you? And did you have a fight with them one summer too?
I never had a best friend live right next door to me. The conflict between Zoe and Trevor is fictional, but I did have an experience in the sixth grade that led to me losing friends. It's so common for friendships from elementary school to change once kids get to middle school, so I wanted to explore that theme.
5. What's your favorite song? Do you write about it in "From the Desk of Zoe Washington"?
Growing up, I loved Mariah Carey, which is why I included "One Sweet Day" (her duet with Boyz II Men) in the book. I listened to that album, Daydream, constantly when I was Zoe's age. Listening to it now still brings back memories of that time!
6. Do you also bake cupcakes? Or do you enjoy eating them more? What's your favorite flavor of cupcake?
When I wrote this book, I wasn't much of a baker, even though I love those baking competition shows. But I've been baking more lately! I'd still rather eat cupcakes than bake them, but it's pretty satisfying to make them yourself. My favorite flavor is similar to Trevor's - chocolate!
7. When you were growing up, did you want to be a baker? Or have you always wanted to be a writer? Or have you always had more than one dream and what do you say to young people who want to grow up to be more than one thing?
I never wanted to be a baker. I didn't even know I wanted to be an author until I was in college! Growing up, I actually wanted to be a Broadway actress. I eventually realized I liked writing stories more than performing in them, so I pivoted to creative writing. I think all young people should figure out what they love, and follow their passion - wherever it takes them!
8. Zoe's cupcake flavor invention reminds us of our Fruity Pebbles Cereal Milk ice cream. Have you ever tried it? Have you ever baked Zoe's cupcake invention?
I've never had that ice cream but it sounds good! I have made Zoe's cupcake invention, and I also posted it to my website here!
9. Was the Davis Square J.P. Licks your go-go ice cream store when you were here?
Yes! I went to the stores in Davis Square and Harvard Square all the time. Even now, whenever I visit Boston or Tufts, I always stop by to grab some.
10. What is your favorite flavor? (Is it the same as Zoe or her mom's?)
My favorite flavors are Coconut Almond Chip (what Zoe's mom orders in the book) and Coffee Cookies 'n' Cream!
11. Do you still write letters to people and send them via the mail (with stamps!!)?
I hadn't in a long time, but now I get to send mail to readers! I try to reply to all fan mail I receive, and I also include notes when I send signed bookplates or bookmarks to readers. (If anyone wants one, they can reach out through my website!)
12. Are you writing another book now? Will ice cream or cupcakes be a big part of that book too?
I'm finishing up edits on my second middle grade novel, which will be out in September 2021. Unfortunately ice cream and cupcakes don't play a part this time, but there is a scene featuring snickerdoodle cookies!
Thanks so much for reading From the Desk of Zoe Wasington, and interviewing me. I can't wait to be able to visit Boston and have your ice cream again!
Yoga in the Park at Assembly Row
Tuesday, May 18, 2021
Headed to Assembly Row for
Yoga in the Park
this weekend? Every Saturday from 9 am - 10 am (weather permitting) now through September, yoga classes will be offered in the park. Stop by J.P. Licks afterward from 10 am - 11 am for 1/2 off any coffee beverage as you prep for the rest of your day!
*bring in your mat so we know you've been part of Yoga in the Park
*offer only good in our Assembly Row store
*offer only good 10 am - 11 am on Saturdays