Our Neighborhoods
Johnny Cupcakes and J.P. Licks Partnership
Wednesday, June 23, 2021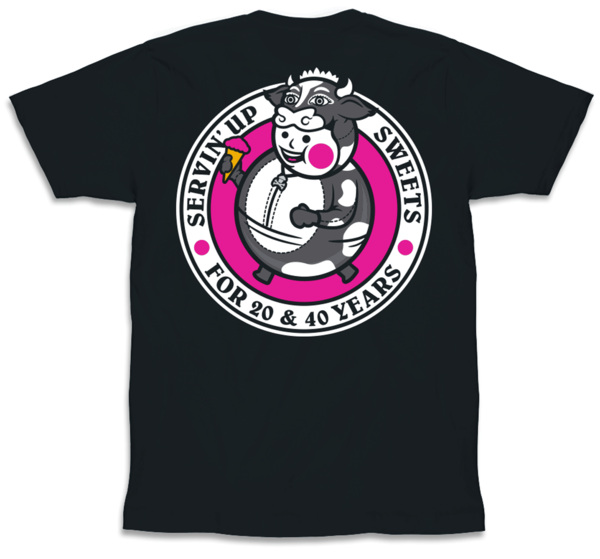 Back in 2020, we began a collaboration with our Newbury Street neighbors, Johnny Cupcakes. Johnny Earle, founder of Johnny Cupcakes, and Vincent Petryk, founder of J.P. Licks, sat down to talk unique flavors and t-shirt designs.
We were all set to go come early Spring, 2020. Obviously, things were put on hold for a while. It took several tries to get just the right level of smokiness in our new Applewood Smoked Vanilla ice cream last year but we had the recipe and kept it tucked in our big recipe book. Once we knew we could launch everything in 2021, Johnny and Vince worked together to update the t-shirt design to reflect their 20th anniversary and our 40th.
Both the tee and the ice cream flavor are available for a limited time in all J.P. Licks stores and you can order the t-shirt from our website. Vincent and Johnny love seeing these sweet treats as unique as their businesses now available to you!
Mayor Janey Visits J.P. Licks
Tuesday, May 18, 2021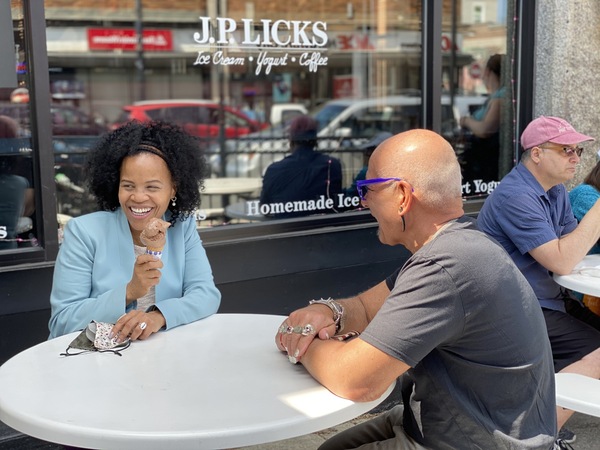 On Saturday, 4/24 Mayor Kim Janey did a walking tour of JP in support of the small businesses who have been working hard to keep our doors open through the pandemic. It included stops at our neighbors City Feed, Nckls & Dimes, and of course, a sit down with founder & owner Vincent Petryk over some Brownie Brownie Batter Ice Cream! We had a great time meeting Mayor Janey, her staff, and tons of neighbors! Check out some
photos
from the day!
J.P. Licks and the Boston Marathon
Monday, May 10, 2021
It has been two Marathon Mondays since we have seen a sea of runners go past our stores. We have seriously missed the energy this day brings to our "race adjacent" stores. Both the runners themselves but all of the people who come out to cheer them on. Both strangers and friends alike stand on the sidewalks and cheer and we revel in the energy you brint to our "race adjacent" stores - Wellesley, Coolidge Corner, Newbury Street, Boylston Street, Charles Street - we love being so close to the route that we can hear the cheers, see the silver blankets, and help you refuel for more cheering! The race is supposed to return to the street this Fall - until then, keep training and stop by to say HELLO anytime. Thanks to WBZ for bringing us all together for this Spring's Marathon Monday.
Squirrel Nut Zipple and the 2020 JP Music Festival
Friday, September 18, 2020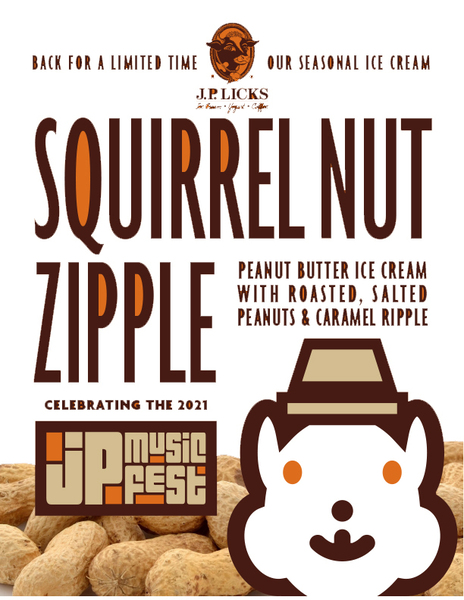 The JP Music Fest has been postponed this year but we couldn't let a year go by without serving the official ice cream flavor of the festival, Squirrel Nut Zipple! A peanut butter ice cream with roasted, salted peanuts, with a caramel ripple. It's a symphony for the tastebuds! Come in to enjoy it now or wait until Fall 2021 - when the JP Music Fest will be back. We hope everyone is still finding ways to enjoy live music and the arts during the pandemic - whether it be via socially distant concerts outdoors or tuning into the innumerable performances happening online! Grab a pint of your favorite flavor to enjoy during while watching a concert happening half way around the world or in your own backyard.
Apprentice Learning and J.P. Licks
Wednesday, November 20, 2019
J.P. Licks loves finding ways to deepen our connection with our communities. Recently, we started working with Apprentice Learning, an organization connected to Boston Public Schools to improve Boston high school graduation rates and make the transition from middle school to high school a bit smoother. An eighth grader from a middle school near our Jamaica Plain headquarters has joined us for a 6 week internship this fall, coming in 2 hours once a week. She is half way through the program and even with only 6 hours under her belt, she has already learned what it takes to roast and package all the coffee we roast here in JP, how to start making an ice cream cake (and just how different it is from baking a cake!), what it takes to create a content calendar for the marketing department (even for just a three month period), and worked on improving our online delivery menus. Turns out there are benefits we never even thought of to having our ice cream makers, cakers, coffee roasters, bakers, and office all in one place - it exposes our interns to so many experiences and they can chose their favorites to focus on! Since this week marks her half way point, you know we'll be celebrating with ice cream! Check out the Apprentice Learning website to see if your business could host a student or if your middle schooler can take part!
https://apprenticelearning.org/about-us/
Real F.R.I.E.N.D.S
Tuesday, September 15, 2020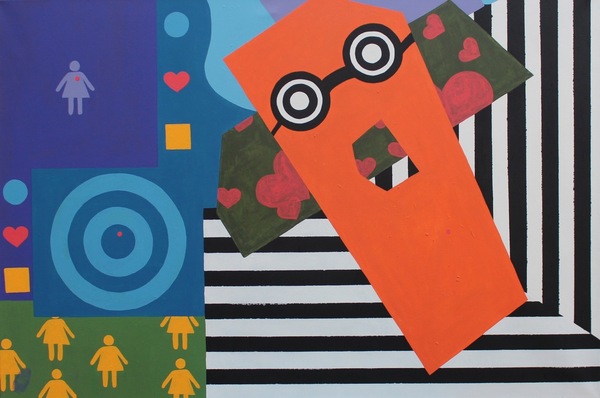 Wondering what our artist are up to when they aren't eating ice cream under their art? Then head over to Beacon Gallery at 524B Harrison Ave in Boston to see "
Real F.R.I.E.N.D.S.
," a show conceived and currated by our current Boylston Street artist Jaamal Eversley. With its unique concept of collaboration and friendship, Real F.R.I.E.N.D.S offers a counterpoint to current events with fun, colorful pieces focused on themes of friendship and love. The intention of this exhibit is twofold: first, to invite the community to experience interdisciplinary collaborations constructed around Eversley's artistic avatar Spencer Ward, a bold nerd. Second, Real F.R.I.E.N.D.S intends to reinforce the belief that a successful collaborative process strengthens communal bonds and generates dynamic creativity. (Plus, artist Fernando Fula, who showed in our South Boston store is one of the featured artists!) Show runs through November, 2020
Artist Reception at Boylston Street
Thursday, June 17, 2021
Join us at our Boylston Street store on Thursday, 6/24 from 7 pm - 9 pm for our first artist reception in over a year! Grab some ice cream and talk to artist Kal Anderson about the current installation of the Pond Collection! There are just over a dozen paintings up, all from the 2020 collection. Kal will have postcard packs of the installed paintings available for sale, as well as the paintings themselves. This is the first time this collection has been shown in person!
This Is Now! An Art Projection Series
Wednesday, October 21, 2020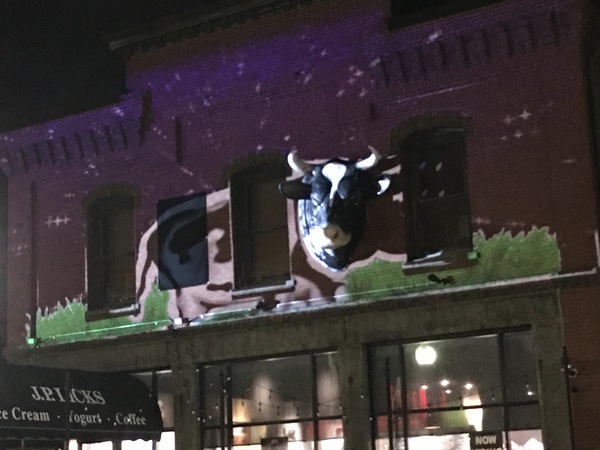 We enjoyed a beautiful, ice cream themed art display Sunday night on our Jamaica Plain storefront! Artists For Humanity youth artists created a light display that had people stopping on the street to watch. Can you guess our favorite part?
A full video of all three evening will be available on their website shortly!
Date Night With Turtle Swamp Brewing
Wednesday, September 2, 2020
Bring date night home this weekend!
Blonde on the Run Catering, located in Jamaica Plain, has created a delicious 3 course dinner for you and a friend to enjoy while you sip Turtle Swamp Beer at home! You get a quart of our vanilla ice cream to create your own lixwiches! Simply pre-order between now and 9/3 and pick up your dinner, dessert, and a mixed 4 pack (or 2) at TSB on 9/5.

Your dinner will be carefully packaged by Blonde on the Run and will come READY-TO-HEAT. Your dinner will come with simple, at-home heating instructions.

Pick up your dinner, dessert and beer after 2pm on 7/25- take home, heat and enjoy!

Choose between (2) 3 course dinner options, then choose if you need 1 or 2 Turtle Swamp mixed 4pks to pair with your dinner! Pre-order now through Thursday, 9/3 @ 8pm.
Best of Boston @BostonMagazine
Tuesday, July 6, 2021
When Vincent Petryk founded J.P. Licks in a small storefront in Jamaica Plain in 1981, he knew he had something special but he had no idea what it would be 40 years later. Yet here we are! Thank you, Boston Magazine, for voting us "2021 Best Ice Cream"
City Counselor Matt O'Malley and J.P. Licks Announce Coffee Composting Program!
Saturday, February 16, 2019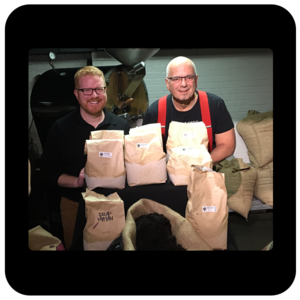 We were inspired by Councilor Matt O'Malley's initiatives – the plastic bag ban and his push to get curbside composting started in Boston. We are happy to help push that effort toward sustainability along by starting to make the coffee grounds available. With so many environmentally conscious people in Boston & the surrounding towns and us having this amazing resource of coffee grounds, it felt like an easy way to connect with the neighborhoods we call home.

It's great for your garden:
Adding coffee grounds to your soil helps with drainage, water retention, and aeration and decreases how much you need to depend on chemical fertilizers (more info will be available on our website about how to use it), so why not - let's make our neighborhoods more beautiful!
Put it in your composting pile:
Coffee grounds are considered a green compost material (food scraps, grass clippings, coffee grounds) so mix it with brown compost material (newspaper, dry leaves, etc).