New! Improved Cake Ordering!
Wednesday, April 1, 2020
Click Here to Order In-Stock and Custom Ice Cream Cakes!
We are updating our online order system to make it easier than ever to order your Ice Cream Cake for pickup at your local J.P. Licks store.
If you already have a Cow Card account, you may log in with your username, and automatically accrue points, redeem reward dollars, and pay with stored value. Forgot your Username?
Every store has a selection of in-stock cakes that can be ready for pickup in two hours, complete with your desired inscription.
Create your own custom cake, choosing your design, up to two ice cream flavors, and a center layer - ready for pickup in 72 hours.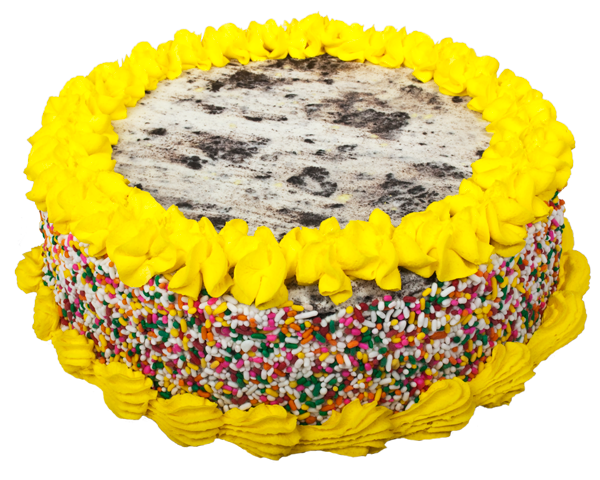 All Stores are Open for Take out and Delivery
Tuesday, March 24, 2020
Thank you for your continued support of your small, neighborhood businesses! All J.P. Licks locations are open for take out and delivery is available via online third party apps. You can still order and pick up cakes, baked goods, pounds of coffee, pints, quarts, lixwiches, and more and come in for a cone or your daily latte!
Check our website for store hours as we continue to adapt as more information develops. We will continue to follow all state mandated requirements, including closing all locations no later than 11 pm.
Thank you for your continued support during these unique and ever changing times. We hope our ice cream, coffee, pastries, and cakes can continue to provide you comfort and smiles from home.
Order Our Coffee Online!
Wednesday, January 8, 2020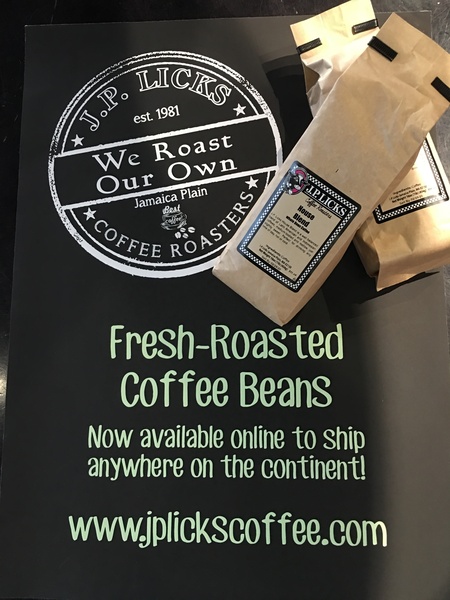 If you've moved away or just want to send your favorite coffee to someone far way, you can now order our fresh-roasted coffee beans and have them shipped anywhere in the continental USA! Roasted in our JP store, you can have them sent whole or ground. Check out
www.jplickscoffee.com
and start enjoying our coffee everywhere.
Current Specials
Sunday, November 24, 2019
Introducing Our Newest Product Line: Dairy Free Oat Milk Ice Cream!
Friday, September 20, 2019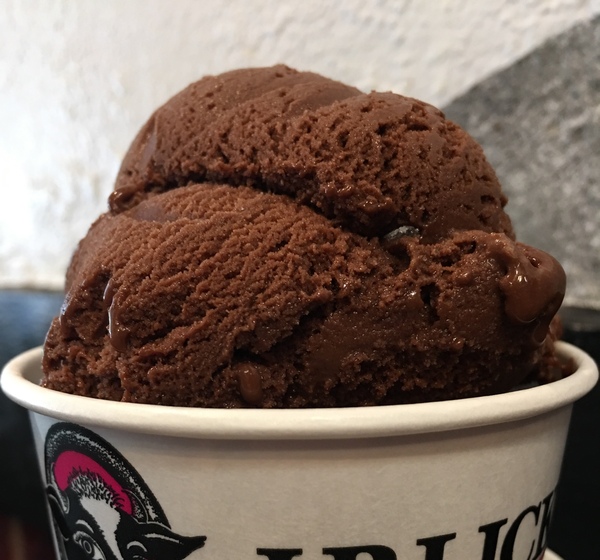 The newest oat based flavor to join the J.P. Licks family: Mint Chip! Creamy and full of flavor, this oat based ice cream is also vegan and gluten free. We can't wait for you to try it!
Our New Store in Andover Is Open!
Saturday, March 16, 2019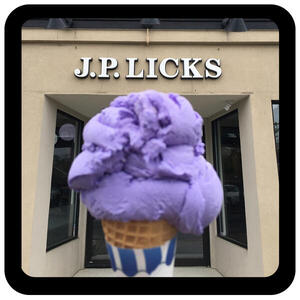 Now open at 28 Park Street in Andover! Come in and meet us - we can't wait to scoop you some ice cream, pour you a cup of coffee, or warm up a pastry! Open every day from 9 am -11 pm. See you soon!
Sign Up For Our Monthly Lix Fix Newsletter.
New Stores Open in Southie & Newbury Street!!
Friday, March 15, 2019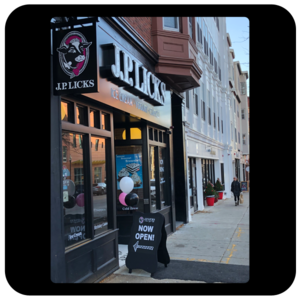 397 West Broadway
Hello South Boston, we look forward to servng you! Grab an ice cream or coffee and enjoy the warm glow of the coolest marshmallowy lights floating from the ceiling and exposed brick walls.
Hours: Sun-Thur: 8am to 10pm, Fri-Sat: 8am to 11pm
179 Newbury Street
We're back on Newbury Street after 6 years away. Our New-Newbury Street store is between Dartmouth & Exeter streets, downstairs. Vince even brought back the mosaic tile look from the original Newbury Street store and picked out cool,vibey lighting! This marks our 15th store and we're so excited to be back in this part of town!
Hours: Sun-Thur: noon - 9pm, Fri-Sat: noon - 10pm
Rewards Members-Buy 10 Get One Free!
Friday, March 15, 2019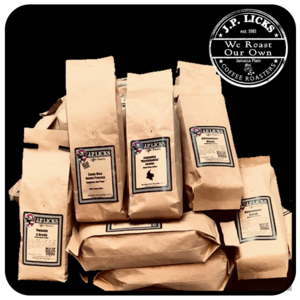 We are certain you will love our fresh roasted coffee beans and will want to make our roasts your daily at-home coffee fix. For every 10 pounds of coffee you purchase we will give you one pound free. The free pound will be automatically added to your Rewards Account. If you are not a member yet, you can download the app here.
Do you have a Rewards Card but have not registered yet? Make sure you are registered so you can take complete advantage of special members-only offers and free birthday ice creams!
City Counselor Matt O'Malley and J.P. Licks Announce Coffee Composting Program!
Saturday, February 16, 2019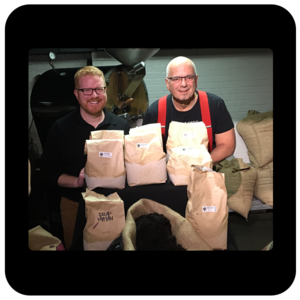 We were inspired by Councilor Matt O'Malley's initiatives – the plastic bag ban and his push to get curbside composting started in Boston. We are happy to help push that effort toward sustainability along by starting to make the coffee grounds available. With so many environmentally conscious people in Boston & the surrounding towns and us having this amazing resource of coffee grounds, it felt like an easy way to connect with the neighborhoods we call home.

It's great for your garden:
Adding coffee grounds to your soil helps with drainage, water retention, and aeration and decreases how much you need to depend on chemical fertilizers (more info will be available on our website about how to use it), so why not - let's make our neighborhoods more beautiful!
Put it in your composting pile:
Coffee grounds are considered a green compost material (food scraps, grass clippings, coffee grounds) so mix it with brown compost material (newspaper, dry leaves, etc).
3 Store Events! Join Us On January 10th
Tuesday, January 1, 2019
South Boston, Newbury Street and South Bay Center all opened in 2018 and we are taking a day to celebrate all three. We look forward to meeting all of new neighbors. Join is for Buy One Get One Free ice cream, win prizes and hang out with Clementine.
All Day- Buy On Get One Free ice cream and 1/2 off all coffee and espresso drinks. (only at these three stores)
1:00- 7:00 Play games and win prizes including a year of free ice cream!
Clementine will visit 2 stores, Newbury Street from 1:00 to 3:00 and South Boston from 5:00 to 7:00.