New Stores Open in Southie & Newbury Street!!
Friday, March 15, 2019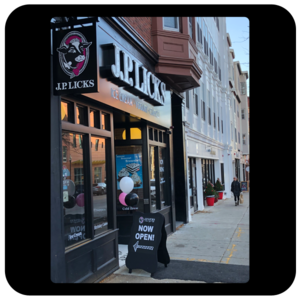 397 West Broadway
Hello South Boston, we look forward to servng you! Grab an ice cream or coffee and enjoy the warm glow of the coolest marshmallowy lights floating from the ceiling and exposed brick walls.
Hours: Sun-Thur: 8am to 10pm, Fri-Sat: 8am to 11pm
179 Newbury Street
We're back on Newbury Street after 6 years away. Our New-Newbury Street store is between Dartmouth & Exeter streets, downstairs. Vince even brought back the mosaic tile look from the original Newbury Street store and picked out cool,vibey lighting! This marks our 15th store and we're so excited to be back in this part of town!
Hours: Sun-Thur: noon - 9pm, Fri-Sat: noon - 10pm