Our Artists
LEGO Mural in Assembly Row
Tuesday, March 10, 2020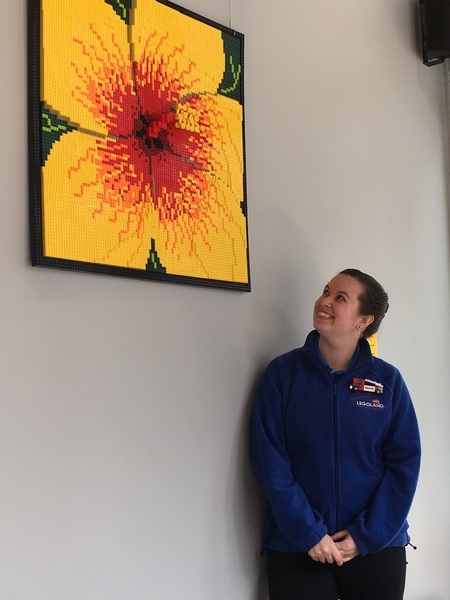 March has brought us another really fun partnership with one of our neighbors. We've partnering with LEGOLAND Discovery Center Boston in Assembly Row to feature "Hibiscus" the mural created entirely of LEGOS by LEGOLAND Discovery Center Boston's Master Model Builder, Megan Amaral.
Megan won the Brick Factor competition to become the Master Model Builderat the Assembly Row LEGOLAND iin 20165. She played with LEGOs as a kid and her love of building structures led her mother to suggest studying architecture in college. Megan designs and build both 3D structures and art pieces like this mural which is 2.5'x2.5'. But if you look around Assembly Row, you'll find a mural over 10 feet long that translates the buildings of the shopping center into a world of LEGOS. Megan also built us a little mini ice cream shop window, complete with baked goods, coffee cups, and ice cream (it just tickles us to no end!). Her mural will stay up for 3 months and we hope to continue featuring her work throughout 2020.
Megan is the only female Master Model Builder in all of North America and one of only four in the world. Read more about her work here. We'd love to see what you create with LEGOS - send us a photo and share your love of LEGOs and ICE CREAM!